These Ooey Gooey S'more brownies with raspberries are decadent, chocolaty, tart and scrumptious! You don't need a camp-fire to have a delicious s'mores!
Summer is winding down, but it's still pretty warm outside here in Los Angeles! S'mores are a childhood favorite of mine, so I'm excited to eat s'mores in any form. S'mores are even better with brownies! The inspiration for these brownies are the Ghiradelli dark chocolate raspberry squares.
These s'more brownies with raspberries are made with my Simple and Easy Brownie Recipe, so be sure to check it out since they're a big part of this recipe! There's four layers to these decadent brownies: a graham cracker, brownie, ooey gooey marshmallow and raspberry jam.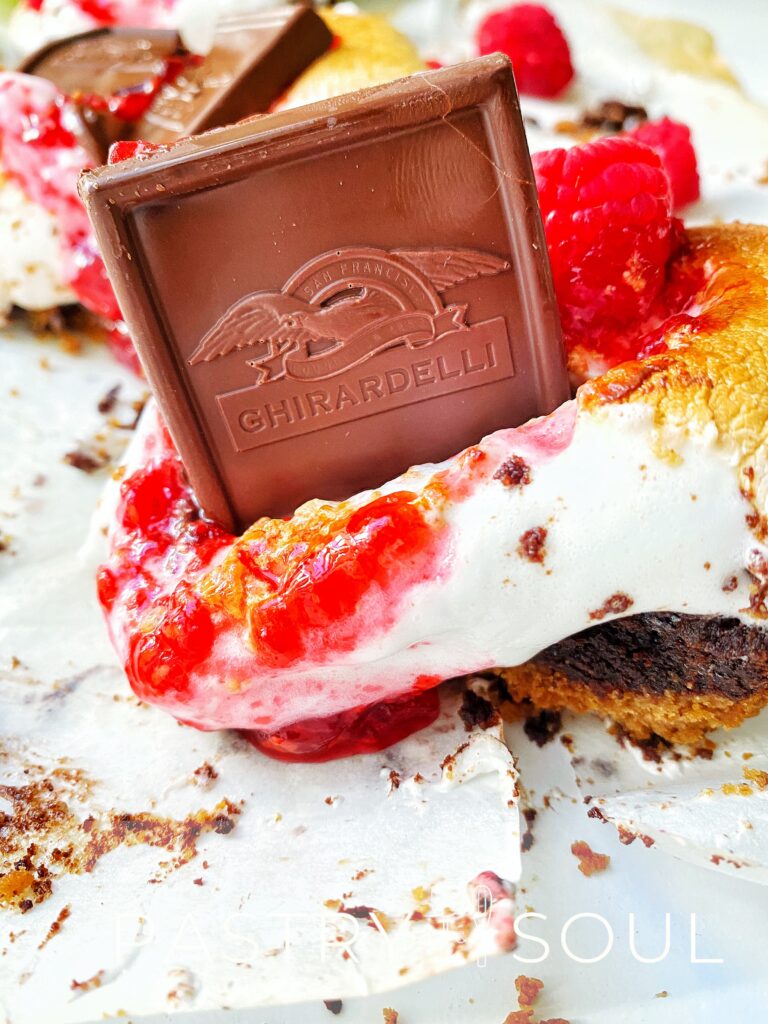 If you're looking for some other fun desserts, then try out my Ultimate Chocolate Chip Cookie recipe!
What you'll need for these s'more brownies with raspberry jam
Marshmallows: I used jumbo marshmallows, but if you want less marshmallow (WHY?!), then you can use smaller marshmallows.
Graham Crackers: Used for the bottom layer of this dessert.
Raspberries: They give this dessert some fruity tang!
Lemon juice: Lemon juice is used for the raspberry jam.
Butter: Butter makes everything better.
Vegetable oil: Vegetable oil gives these brownies their chewiness.
Granulated sugar: This is where the sweet goodness comes from! This is used for both the raspberry jam and the brownies.
Brown sugar: Brown sugar adds a layer of rich flavor to this recipe from the molasses, but you can use all granulated sugar if you do not have brown sugar.
Eggs: Eggs are the leavening agent in this recipe.
Vanilla: Yes, these are brownies made with chocolate, but vanilla adds a nice additional layer of flavor to the brownies.
Flour: I used all purpose flour for this recipe.
Cocoa powder: This is where the majority of the chocolate flavor comes from.
Salt: Don't leave out the salt. This is enhances the flavors in the brownies and keeps the brownies from being ridiculously sweet.
Chocolate Chunks: You can use any kind of mix in or omit the chocolate, but why wouldn't you want to leave out extra chocolate? The more chocolate, the better! You can definitely use chocolate chips or chopped chocolate from a quality chocolate bar as well!
Espresso powder: Espresso powder is optional, but it enhances the chocolate in these brownies and makes the brownies extra chocolaty!
Can't have s'mores without graham crackers! The first layer of these brownies has a graham cracker crust.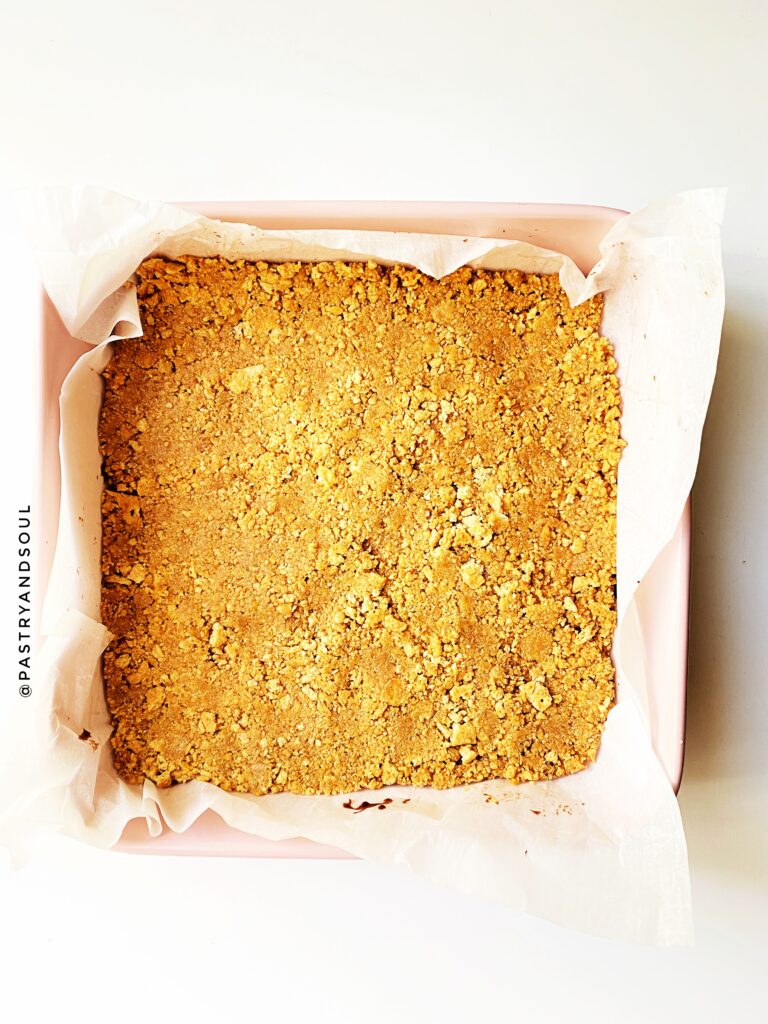 The second layer is the brownie! Be sure to try out my simple brownie recipe! It's extra chocolaty and pairs well with the chocolate component of the s'more inspiration of the dessert.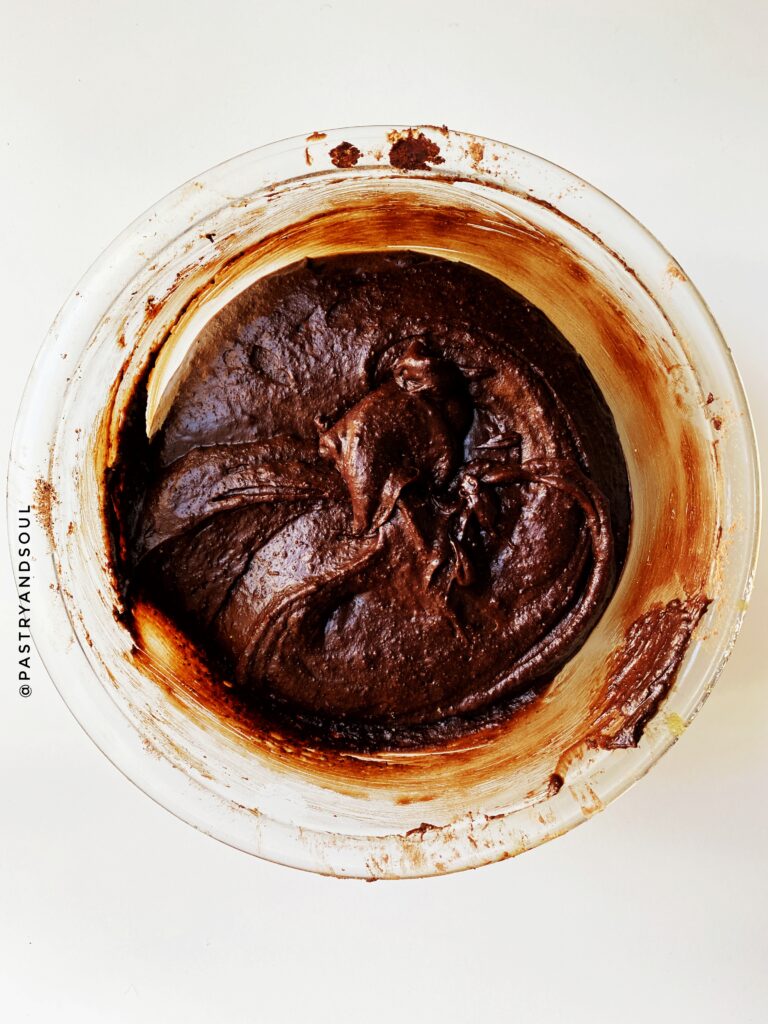 Pour the brownie batter on top of the graham cracker crust then bake at 350F.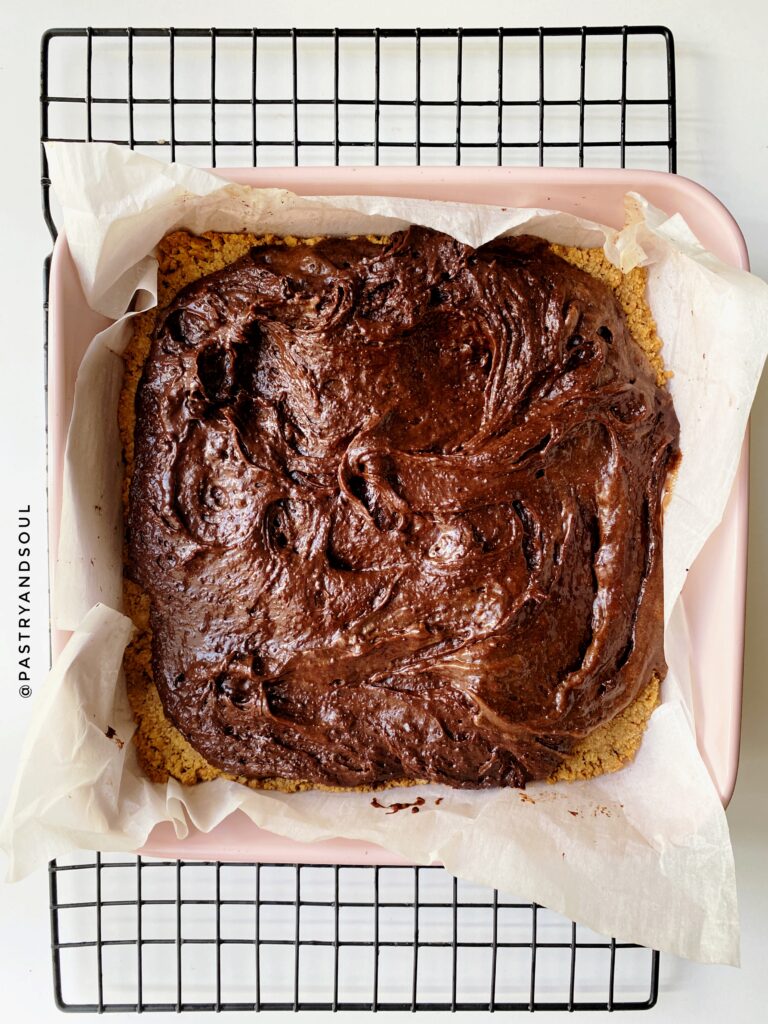 Next, add marshmallows over the baked brownie. I used jumbo marshmallows for extra gooiness! Brown the marshmallows in the broiler or by using a blow torch.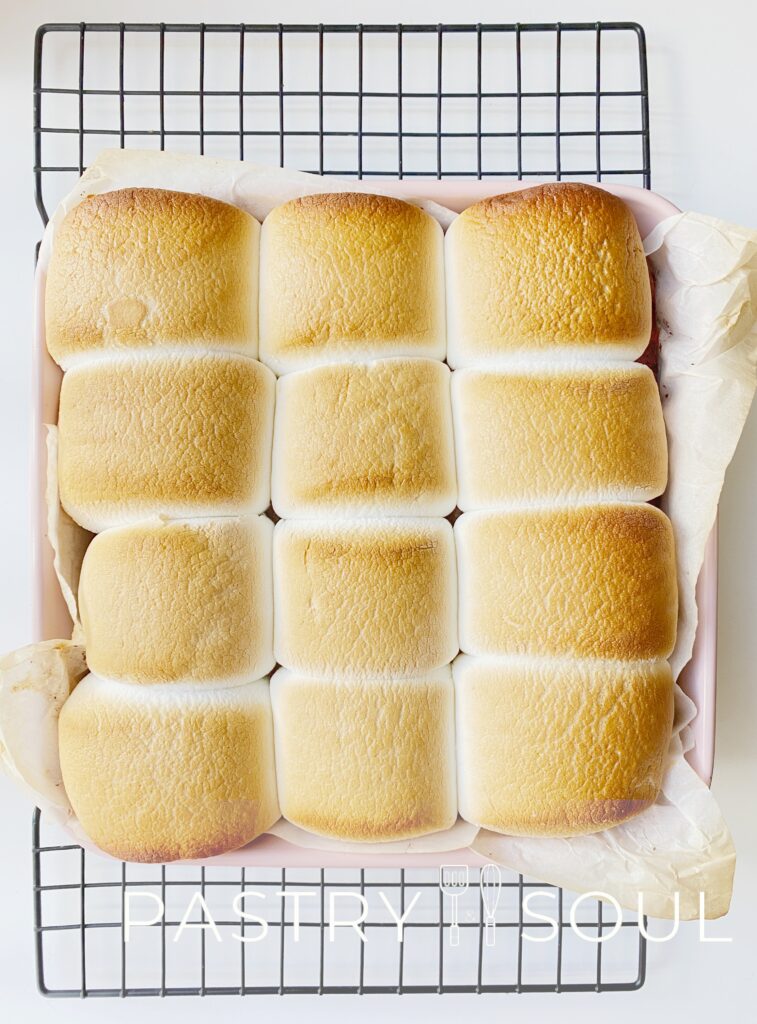 THIS POST MAY CONTAIN AFFILIATE LINKS. PLEASE READ MY PRIVACY & DISCLOSURE POLICY.
Recommended tools for this recipe
Print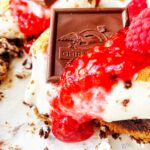 S'more Brownies with Raspberries
---
Author:
Total Time: 1 hour 25 minutes
Yield: 9 squares 1x
Description
These fun ooey gooey brownie dessert can easily made at home in the kitchen or around a camp fire with your friends and family! 
---
Graham Cracker Crust
170 grahams of graham cracker crumbs, about 9 graham full-size graham crackers
1 tablespoon granulated sugar
5 tablespoons unsalted butter
Brownie layer
Use my easy brownie recipe for this dessert!
Raspberry jam
1/2 pound fresh or frozen raspberries
1/4 cup granulated sugar
1 tablespoon lemon juice
pinch of salt
Marshmallow Topping
---
Instructions
Graham Crackers
Pre-heat your oven to 350F and line an 8-in square baking pan with parchment paper.

Crush the graham crackers with a food processor or by crushing the graham crackers in a ziplock bag and rolling a rolling pin over the bag until the graham crackers are completely crushed.

In a large bowl, whisk together the graham cracker crumbs and sugar together. Pour in the butter, then whisk to combine.

Pour the graham cracker mixture into the prepared pan and use a rubber spatula, the bottom of a drinking glass or measuring cup to pack the crust into a solid layer. Bake the crust for 10 minutes at 350F. Prepare the brownies while the while the crust is baking.
Brownies
Use my easy brownie recipe for this dessert!
Pour the brownie batter over the graham cracker crust.
Bake for 25 minutes or until a toothpick comes out clean with a few crumbs from the center of the brownie.
Marshmallow Topping
After the brownies are baked, allow them to slightly cool, then cut into squares. Add one jumbo marshmallow on top of each square. If you're using smaller marshmallows, then sprinkle them all over the top of the brownies. Turn on the broiler on low and place the brownies under the heat. Watch the brownies CAREFULLY so that they do not burn. This will take 5 minutes or less.
You can also use a blow torch brown the marshmallows.
Allow the brownies to cool completely.
Clean cuts can be achieved by running hot water on a knife and cleaning the knife after each cut.
Raspberry Topping
Wash and clean raspberries, then cut them into even pieces and add berries into a saucepan.
Add sugar to the saucepan and mash the berries with the fruit using a potato masher or muddler.
Add the lemon juice.
Boil the berries for 20 minutes over medium heat while stirring occasionally. 
Take a bit of the hot jam and put it on a frozen spoon then wait for it to cool. If you're able to run your finger through the jam and you can clearly see the back of the spoon, then your jam is set. The jam should no longer be in a liquid state.
Remove the jam from the heat and transfer it to a clean jar. 
All the jam to cool completely.
Add a spoonful of raspberry jam on top of each brownie and enjoy!
Notes
You may strain the raspberries if you do not like seeds in your jam.
Prep Time: 40 minutes
Cook Time: 45 minutes
Category: brownies, dessert
Method: Baking
Keywords: brownies, s'mores, raspberry jam, jam, fruit dessert, dessert