Enjoy this refreshing Mixed Berry-Lemonade Wine Slushy on a hot summer day or any day of the year!
Whew! This summer has been toasty! How can you cool down, relax and enjoy the summer berry harvest before the pumpkin spice season begins? Try out this simple Mixed Berry-Lemonade Wine Slushy while you wind down on the porch, at a picnic or by the pool.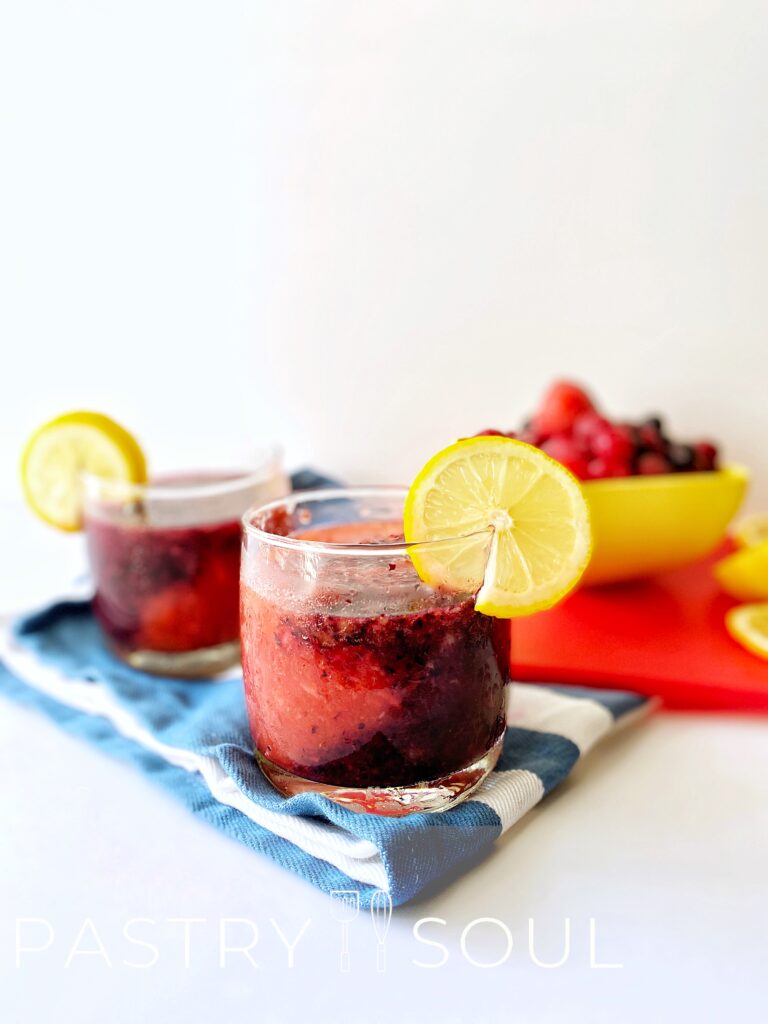 What you'll need for this refreshing Mixed Berry-Lemonade Wine Slushy
Frozen mixed berries: The berries adds a beautiful light sweetness to this drink and rich, vibrant colors
Wine: Moscato is my favorite wine, so that's what I used for this recipe. You are welcome to use prosecco, Riesling, chardonnay or any white wine of your choice.
Lemonade: Lemonade adds a lovely citrus note and makes the drink extra refreshing.
Ice: Ice is optional and I recommend adding it a little bit at time in order to get your preferred slushy consistency.
Sugar: If you have a sweet tooth, then feel free to a touch of sugar to the slushy.
THIS POST MAY CONTAIN AFFILIATE LINKS. PLEASE READ MY PRIVACY & DISCLOSURE POLICY.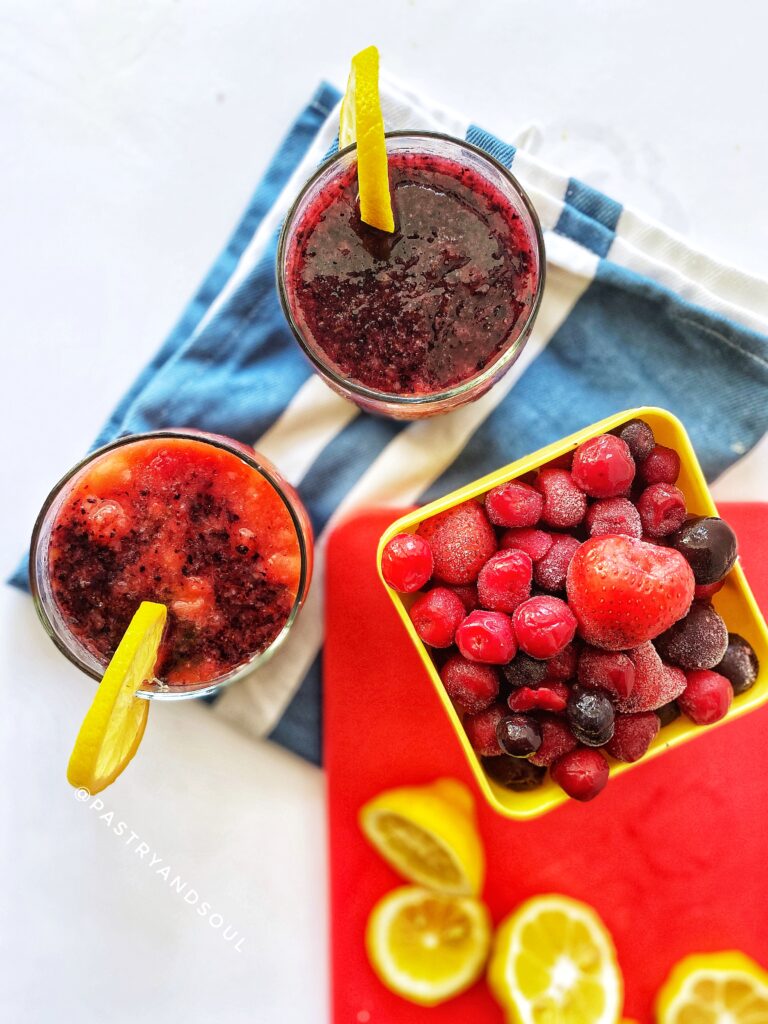 Tools for this recipe
Blender
Measuring cups
Measuring spoons
Fun variation of this drink
If you want to make this drink as show in the photo, then you'll need to do the following:
Separate the berries by color. For the drink, I used a mix of blueberries, strawberries and cherries, so the I put the blueberries in one pile and the strawberries and cherries in another pile.
You'll essentially be making two different slushies; one red slushy and one blue-ish slushy. Blend the red berries together with the lemonade, wine and ice, rinse the blender, then follow the same steps for the blueberries.
Decide on which color you would prefer to have on top. Pour the bottom color first. Next, take a spoon and slowly pour the second drink on top of the first drink to create layers.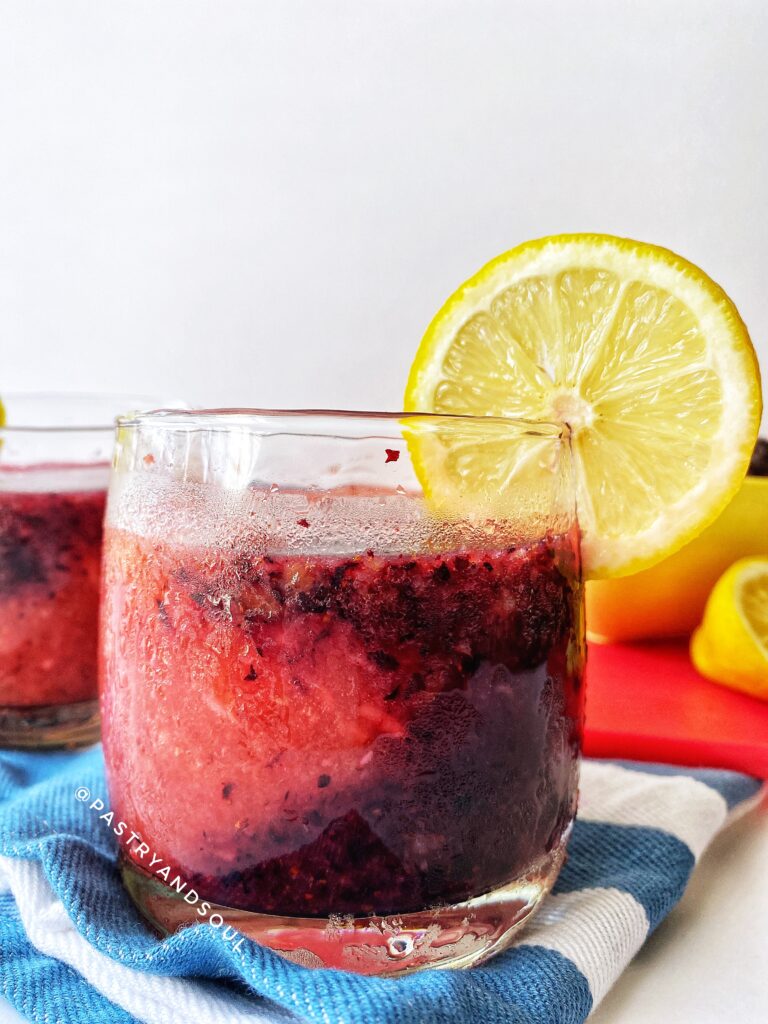 Non-Alcoholic Drink
Feel free to omit the wine and use only lemonade. The drink will still be just as delicious and refreshing. It'll be great for your kids to enjoy and for guests who prefer not to have an alcoholic drink. It's a tasty alternative for everyone!
Print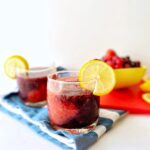 Mixed Berry Lemonade and Wine Slushy
---
Author:
Total Time: 10 minutes
Description
A refreshing blend of berries, lemonade and wine. This is a quick recipe that's perfect for a hot summer day!
---
4 cups frozen mixed berries (I used a blueberry, strawberry and cherry mix)
1 cup wine, chilled (moscato was used for this recipe)
1 cup lemonade
handful of ice cubes (optional, you can use all berries)
1 teaspoon granulated sugar, to taste (optional)
berries, optional garnish
lemon slices, optional garnish
---
Instructions
Pour the berries, lemonade, ice cubes, and wine into a blender and blend until smooth.
Once the ingredients are blended, taste and add additional ingredients to your preference. Add more wine or lemonade to thin out the slushy or add more berries or ice to thicken the drink. Add the sugar if you prefer a sweeter drink.
Serve immediately while cold and enjoy!
Notes
Add berries and ice a little bit at a time. A powerful blender will help to smoothly blend the drink.
If you're not drinking the slushy right away, then be sure to store it in the refrigerator until you're ready to enjoy.
I recommend serving this drink within 30 minutes to 1 hour.
Prep Time: 10 minutes
Category: cocktails
Keywords: cocktails, slushies, summer drinks
Try out some other fun summer recipes!