These soft and buttery cinnamon rolls will be your new go to cinnamon roll recipe! There's nothing better that a warm, cloud of dough with cinnamon sugar swirls and draped in vanilla icing. I love having brunch with my friends and biting into a soft cinnamon roll. I always fee like my day is instantly better as I'm stepping into a world of decadence. That's what this cinnamon roll recipe is…DECADENCE.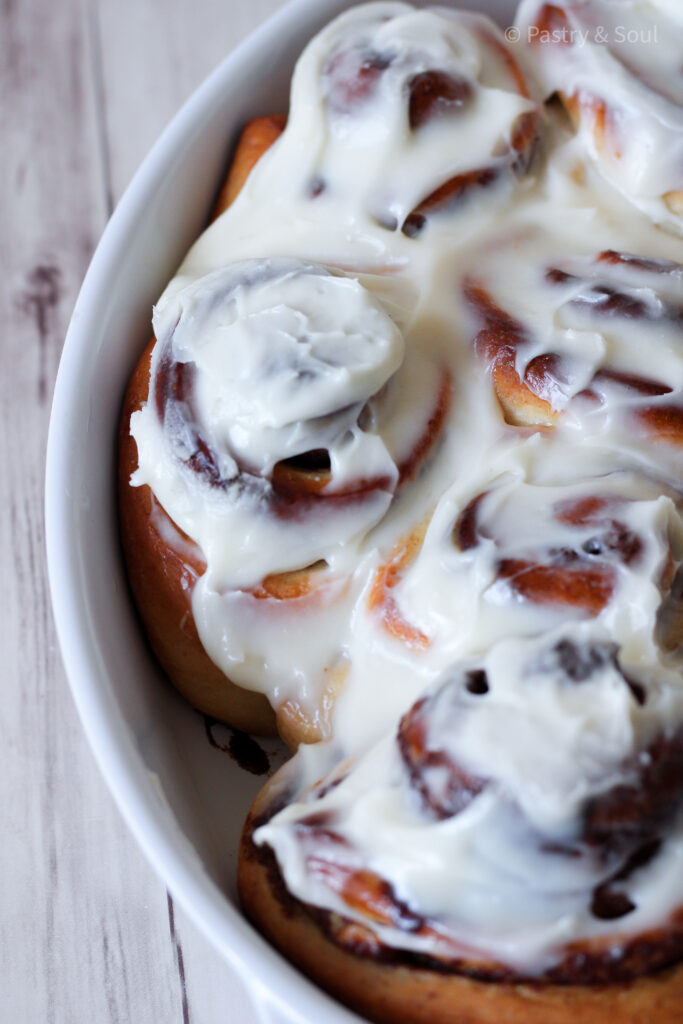 This recipe is perfect for breakfast, brunch or mid day snacks! Do you love breakfast at any time of the day? You'll love these cinnamon rolls for breakfast, brunch, lunch, dinner or dessert! As you can see, these cinnamon rolls are perfect for any time of the day! You'll love making this recipe for your friends and family or make a fun event out of making this recipe with your loved ones! Watch me make these cinnamon rolls here!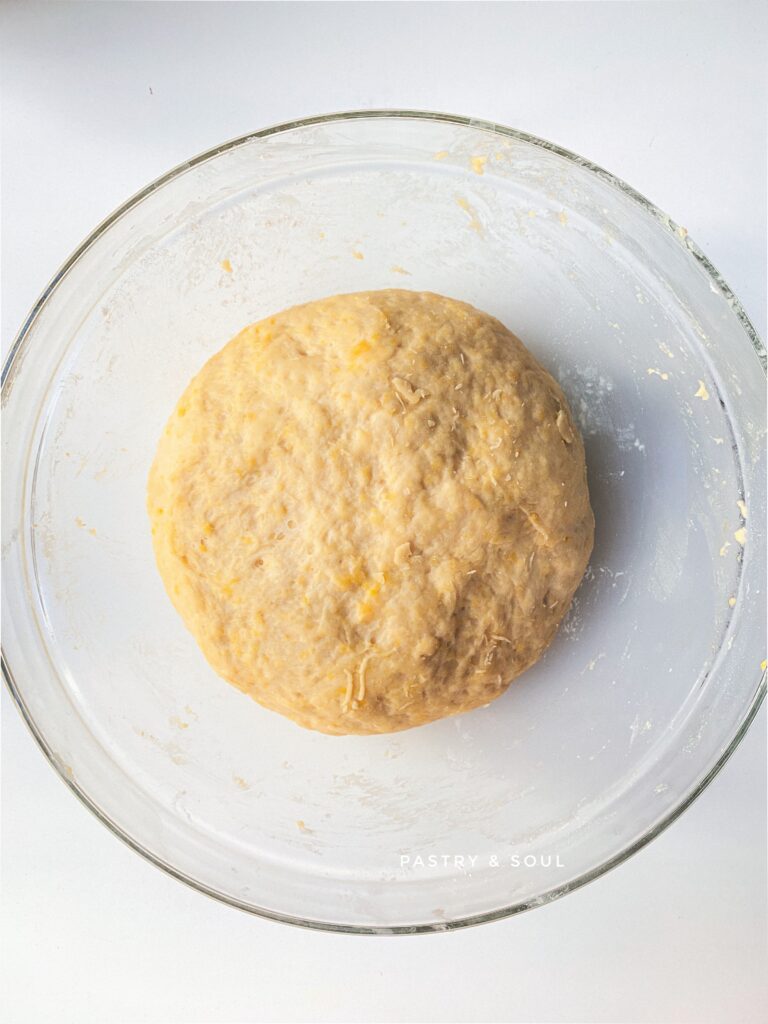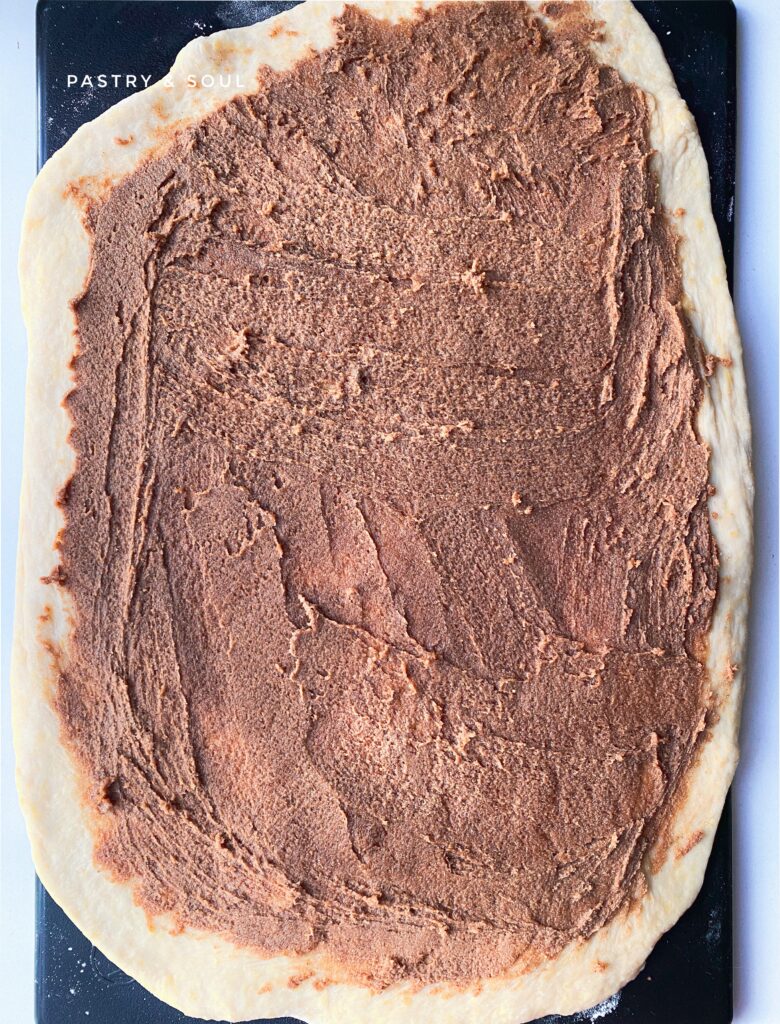 Here's what you'll need for these soft and buttery cinnamon rolls!
Unsalted Butter: It's always best to use unsalted butter, so that you're able to control the amount of salt in your baked goods. Butter is used twice in this recipe.
Brown and Granulated Sugar: Granulated sugar is used in the dough and brown sugar is used in the filling of the cinnamon rolls. Light or dark brown sugar will work for this recipe. Dark brown sugar contains more molasses than light brown sugar.
Eggs: It's best to use room temperature eggs.
Vanilla Extract: Vanilla is essential!
Flour: All-purpose flour was used for this recipe. Always spoon your flour into a measuring cup rather than packing the flour like you may usually do with brown sugar.
Salt: Always use salt in your baked goods. These cinnamon rolls are definitely on the sweet side, so salt is needed in the recipe.
Yeast: Active dry yeast was used for this recipe.
Cream Cheese: Cream cheese adds a nice tang to the icing and cuts a bit of the sweetness.
Milk: Make sure that your milk is warm, so that it does not deactivate the yeast. Almond milk was used for this recipe.
Powdered sugar: Powdered sugar is used for the icing.
Heavy Cream: Heavy cream is used for the icing. You can also use milk if you do not have heavy cream.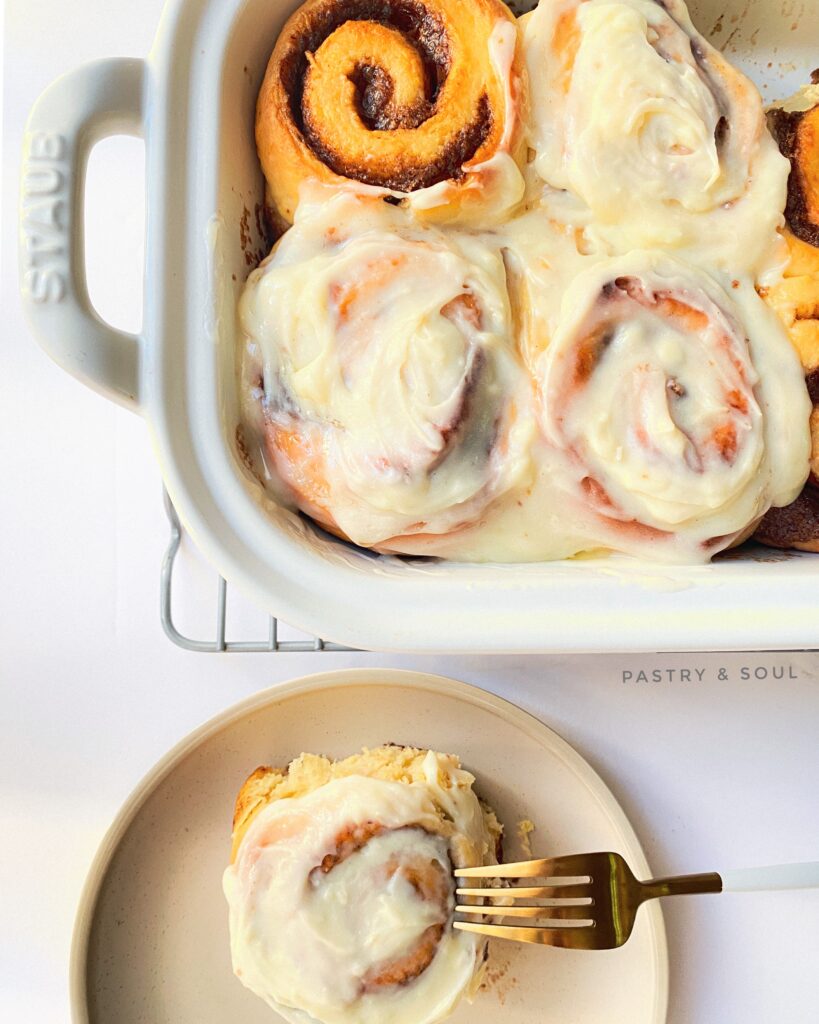 Need an additional breakfast and brunch recipe? Check out my dutch baby pancake recipe!
Print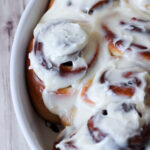 Soft and Buttery Cinnamon Rolls
---
Dough
500 g All Purpose Flour (plus more for kneading)
100 g granulated sugar
75 g unsalted butter, softened
2 large eggs
1 packet active dry yeast
1 cup milk, warm (feel free to use the milk of your choice)
1 tsp salt
Cinnamon Sugar Filling
75 g softened unsalted butter
150 g dark or light brown sugar
25 g cinnamon
1 tsp vanilla
Cream Cheese Icing
75 g unsalted butter
65 g cream cheese, room temperature
250 g powdered sugar (icing sugar)
pinch salt
1 tsp milk or heavy cream (increase amount of milk depending on thickness of icing)
---
Instructions
Pour one packet of active dry yeast into warm milk. You can warm the milk on the stove or in the microwave.
Add sugar to the yeast and milk mixture. Give the mixture astir and set aside for about 5-10 minutes for the yeast to bloom.
In a large bowl, combine flour, sugar and salt. Then whisk.
Add in the room temperature butter cut into cubes.
Add in eggs one at a time.
Using your CLEAN hands, work the eggs and butter into the flour mixture until the butter and eggs are well dispersed.
Add the yeast and milk mixture to the dry mixture. Then mix until well incorporated.
Flour a clean work surface and pour the dough onto the surface. The dough will be a bit sticky, so add a little flour at a time while kneading the dough until the dough stops sticking to the work surface.
Form the dough into a ball and place it back into the bowl. Cover the dough with a clean kitchen towel and let it rise for 1 – 1.5 hours. Then start working on your filling.
In a standing mixer bowl, combine light or dark brown sugar, room temperature butter, vanilla extract and cinnamon.
With a paddle attachment, whip together until thoroughly combined. Transfer to a smaller bowl.
When the dough has risen you will see that it has doubled in size and it's super soft. Transfer it out onto a lightly floured surface. Roll dough ¼'' thin into a rectangle.
Spread the cinnamon filling onto the rolled dough and spread thin. I find this method easier and easier than spreading softened butter on the dough first, then sprinkling the cinnamon and sugar on top.
Now roll your dough from one end to the other starting from the end closest to you. This side should be the long side of the rectangle. The dough is delicate, so roll slowly.
Next, cut the dough into equal-sized pieces. I used a knife, but you'll get a much cleaner cut if you use clean thread or floss to cut the dough.
Place the rolls onto a gently greased pan. You can use butter or cooking spray. Cover the pan and let the rolls rise for an hour.
Next, preheat your oven to 325F and start making the icing.
In a bowl, combine room temperature cream cheese and room temperature butter. Whip until they're completely mixed. I used a standing mixer, but you can also use a handheld mixer and a bowl.
Add in the powdered sugar a few spoonfuls at time. Whip between each addition. Once all the sugar has been added, add in the vanilla, salt and milk. Whip to combine and set aside for later.
After the rolls rise, bake them for 20 min.
Once the rolls come out of the oven, allow them to cool for 5 min before adding icing.
Now it's time to add the icing! Slather on all over the cinnamon rolls!
ENJOY!
Category: Breakfast, Dessert, Snack
Keywords: cinnamon rolls, cinnamon buns, breakfast food, dessert