Try out this asparagus, jalapeño , and prosciutto cast iron skillet pizza recipe!
I can't get enough of pizza whether is a thin crust, thick crust, or herbed crust pizza. They all taste great to me! My ideal pizza needs to have a great crust and sauce. Those are the key elements to a perfect pizza. You can have the perfect toppings, but they can't save a tough crust and bland pizza sauce.
The pizza sauce has just the right amount of tang and sweetness with a hint of heat. The pizza dough part of this recipe is credited to King Arthur's Crispy Cheesy Pan Pizza Recipe. When I first made this recipe, I had recently purchased a cast iron skillet and wanted to try making a pizza dough that cooked perfectly in a cast iron skillet. It's one of my favorite pizza dough recipes and paired well with my pizza sauce recipe!
The pizza sauce recipe yields enough sauce for about 5 pizzas (depending on how much sauce you like on your pizza), so don't be surprised when you have left over pizza sauce.
The pizza dough recipe is the epitome of "Good things come to those who wait." – it takes 16 hours to make the pizza dough. I advise you to not try to make this pizza when you're hungry. The dough makes an excellent pizza crust and is definitely worth the wait!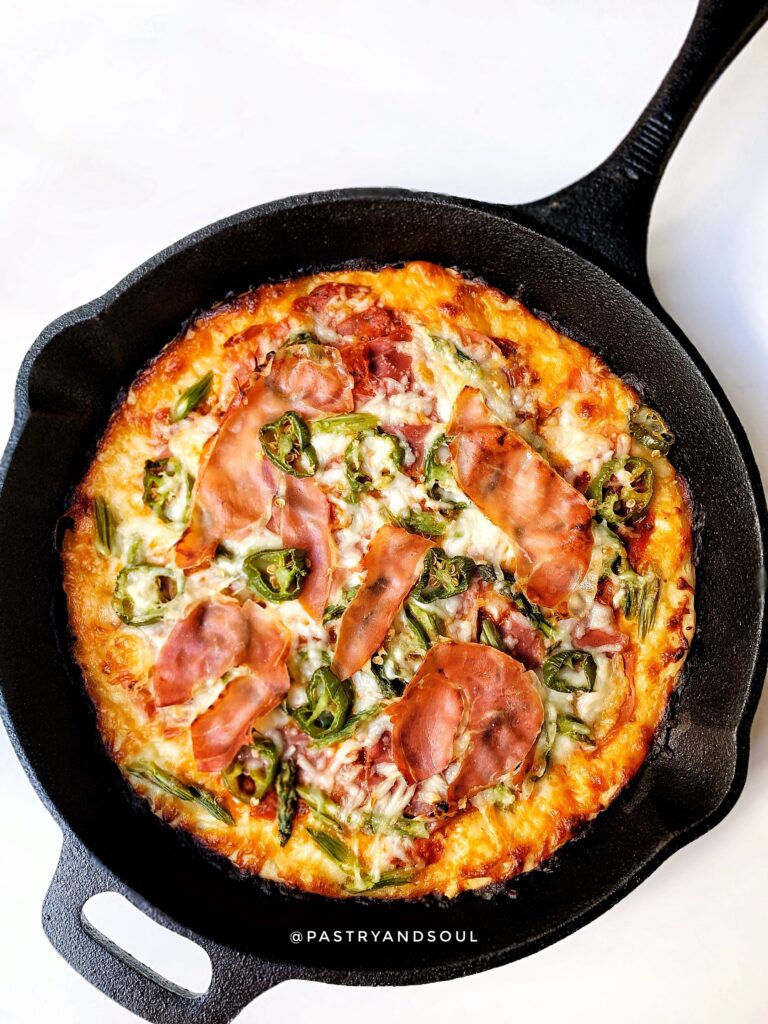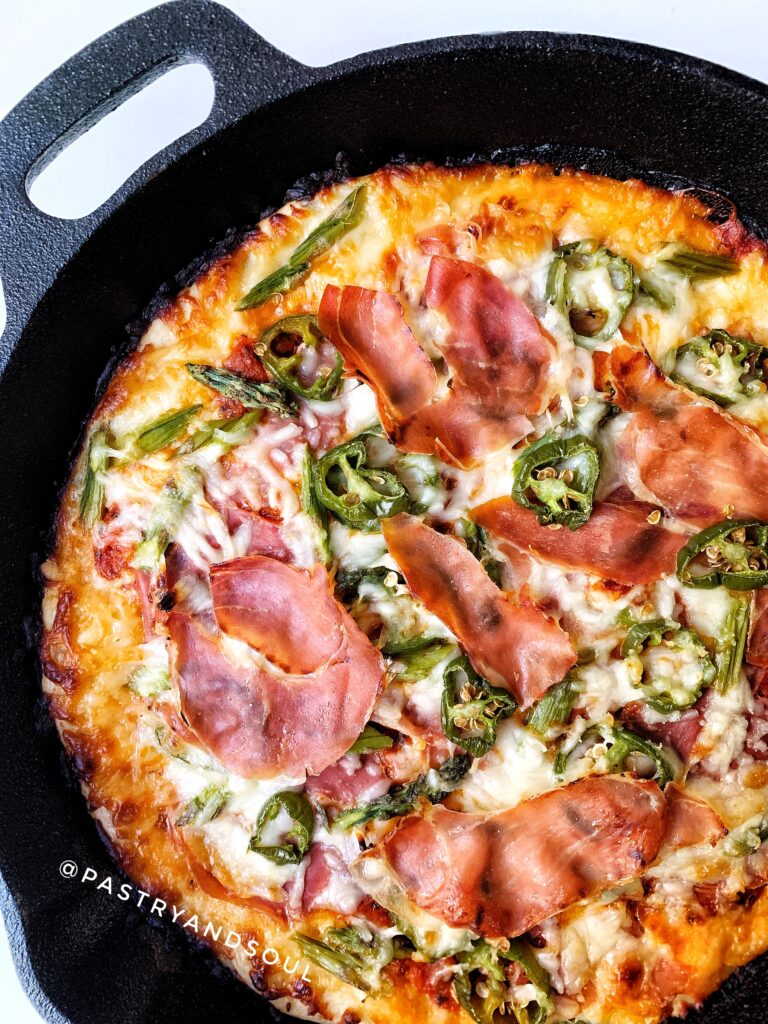 THIS POST MAY CONTAIN AFFILIATE LINKS. PLEASE READ MY PRIVACY & DISCLOSURE POLICY.
Ingredients that you'll need for this pizza sauce
Canned crushed tomatoes
Canned whole peeled tomatoes in sauce
Garlic Powder
Granulated sugar
Ground black pepper
Crushed red pepper flakes
Salt
Italian seasoning
Oregano
Fresh basil leaves
Minced onion
Garlic cloves
Olive oil
Ingredients that you'll need for the pizza dough
All-Purpose Flour
Salt
Instant yeast or active dry yeast
Water
Olive oil
Toppings
Prosciutto
Jalapenos
Asparagus
Tools you will need for this pizza
Other cast recipes you'll love!
Dutch baby with Caramel apples – perfect for breakfast or brunch!
Print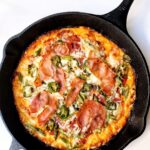 Asparagus, Jalapeño, and Prosciutto Cast Iron Skillet Pizza
---
Author:
Total Time: 17 hours 25 minutes
Yield: one 9" or 10" pan pizza 1x
2 cups (240g) All-Purpose Flour
¾ teaspoon salt
½ teaspoon instant yeast or active dry yeast
¾ cup (170g) lukewarm water
1 tablespoon olive oil plus 1 ½ tablespoons olive oil for the pan
Pizza Sauce
1 – 28 ounce (800g)  can of crushed tomatoes in sauce
1 – 14.5 ounce (400g) can of whole peeled tomatoes in sauce (400g)
1 teaspoon (5g) granulated sugar
½ teaspoon (3g) ground black pepper
1 teaspoon (3g) red pepper flakes
1 teaspoon (5g) Italian seasoning
1 teaspoon (5g) garlic powder
1 teaspoon (5g) oregano
6 basil leaves, finely chopped
½ cup of diced onions (approx. one medium onion)
4 cloves garlic
4 tablespoons (60 ml) olive oil
Toppings
1 ¼ cups (170g) mozzarella cheese, grated  and loosely packed
½ cup of my homemade pizza sauce
3 oz prosciutto
5 stalks of asparagus, washed and chopped into 1 inch pieces
1 jalapeno, washed and sliced into circles
---
Instructions
Pizza Sauce
Pour the crushed tomatoes into a food processor or a blender.
Crush the whole tomatoes with your hands or smash them with a potato masher, then add the tomatoes and the juices and tomatoes to the food processor/blender.
Next, add the sugar, black pepper, Italian seasoning, oregano. Blend until smooth.
Turn the stove on to medium heat and add olive oil a large pot.
Add the onions and garlic to the pot and cook them for approximately 5 minutes until the onions are slightly translucent, stir occasionally.
Next, pour the blended tomatoes into the pot and stir in to mix with the onions, garlic and oil.
Season to taste with teaspoon of salt at a time. (optional)
Stir the sauce and bring to a boil. Once you see the bubbles on top of the sauce, then turn down the stove to medium low or low heat and allow the sauce to simmer for 20 minutes.
Stir the sauce every 5 minutes.
Turn off the heat and allow the sauce to cool before adding the sauce to the pizza.
This recipe makes approximately enough sauce for 5 or more pizzas (about 3-4 cups). 
This pizza dough yields one 9″ or 10″ pizza.
Assemble Pizza
Follow the assembly instructions for the (King Arthur Cheesy Pan Pizza).
Serve and enjoy!
Notes
Storing the pizza sauce
Store the pizza sauce in a freezer safe container or freezer bags for 3 – 5 months.
You can also store the pizza sauce in an airtight container for 3 days, but I recommend the freezer option since this recipe yields quite a bit of sauce.
Prep Time: 1 hour
Cook Time: 16 hours 25 minutes
Category: pizza
Method: Baking
Keywords: pizza, pizza sauce, homemade pizza