If you're looking for a deliciously decadent and boozy rum cake, then you've found it right here! The Peach Upside-down rum bundt cake is sweet, boozy and a tad tart. There is quite a bit of rum in this mouthwatering dessert, but you will not get drunk unless you eat the whole cake by yourself in one sitting. Try this recipe for your next family get together, picnic or holiday party!
The buttered rum sauce adds extra flare and richness to the cake. Try pairing the cake with a scoop of vanilla ice cream and a drizzle of rum sauce on top!
You can also serve this cake during afternoon tea or after dinner for a lovely dessert. Try out my cinnamon roll recipe, dutch baby pancake recipe or fruit tart recipe to wow your friends and family!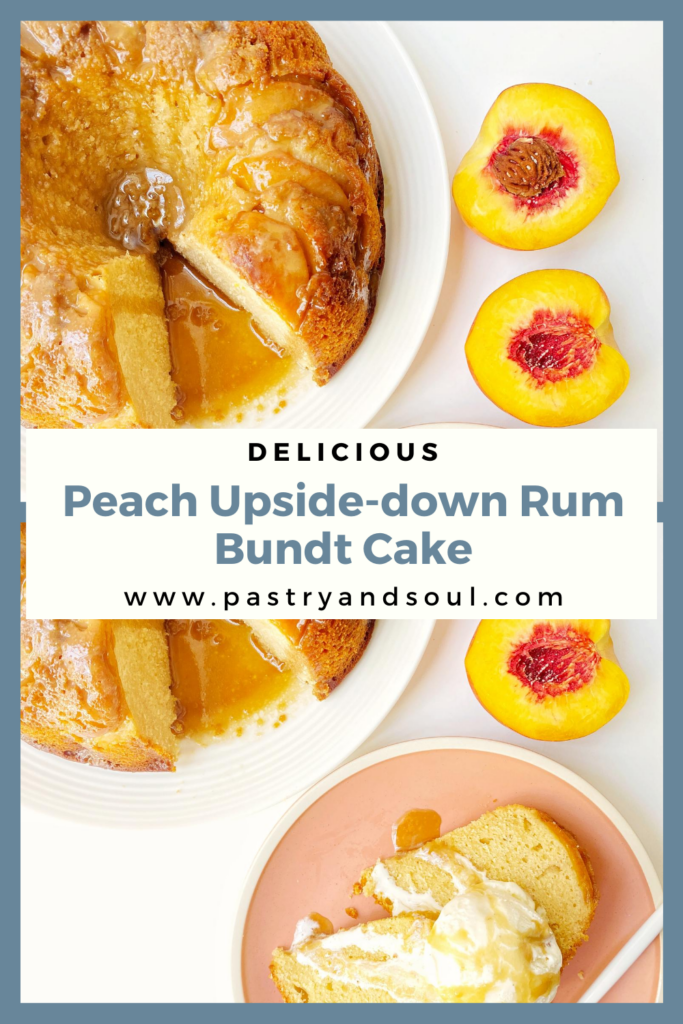 What you'll need for this peach upside-down rum bundt cake
Peaches: I used one yellow peach for this recipe. If you don't have yellow peaches, then white peaches could work as well, however, I think yellow peaches work best.
Unsalted Butter: Melted butter and softened butter are used for two different parts of this recipe.
Brown sugar: Brown sugar is used twice for this recipe. You can use either light brown sugar or dark brown sugar.
Granulated Sugar: Granulated sugar gives some additional sweetness to the cake.
Eggs: It's best to use room temperature eggs.
Vanilla Extract: Vanilla adds some additional flavor to this recipe that's not just sweetness.
Flour: All purpose flour was used for this recipe. Always spoon your flour into a measuring cup rather than packing the flour like you may usually do with brown sugar.
Nutmeg: The addition of nutmeg gives this cake a warm flavor note. Freshly grated nutmeg is always a beautiful addition to baked goods, however you can certainly use ground nutmeg in this recipe.
Lemon zest: Lemon zest brings a nice and light brightness to the cake.
Greek Yogurt: Plain Greek yogurt works best in this recipe. You may use vanilla Greek yogurt as well.
Rum: You can use spiced rum as well for this recipe.
Milk: It's best to make sure that your milk is also room temperature. Almond milk was used for this recipe.
Salt: Don't forget the salt, so that your zucchini bread doesn't taste insanely sweet.
Baking powder
Heavy Whipping Cream: Heavy whipping cream is used for the rum sauce.
Peach Schnapps: The peach schnapps used in the rum sauce adds to the peach flavor in this cake.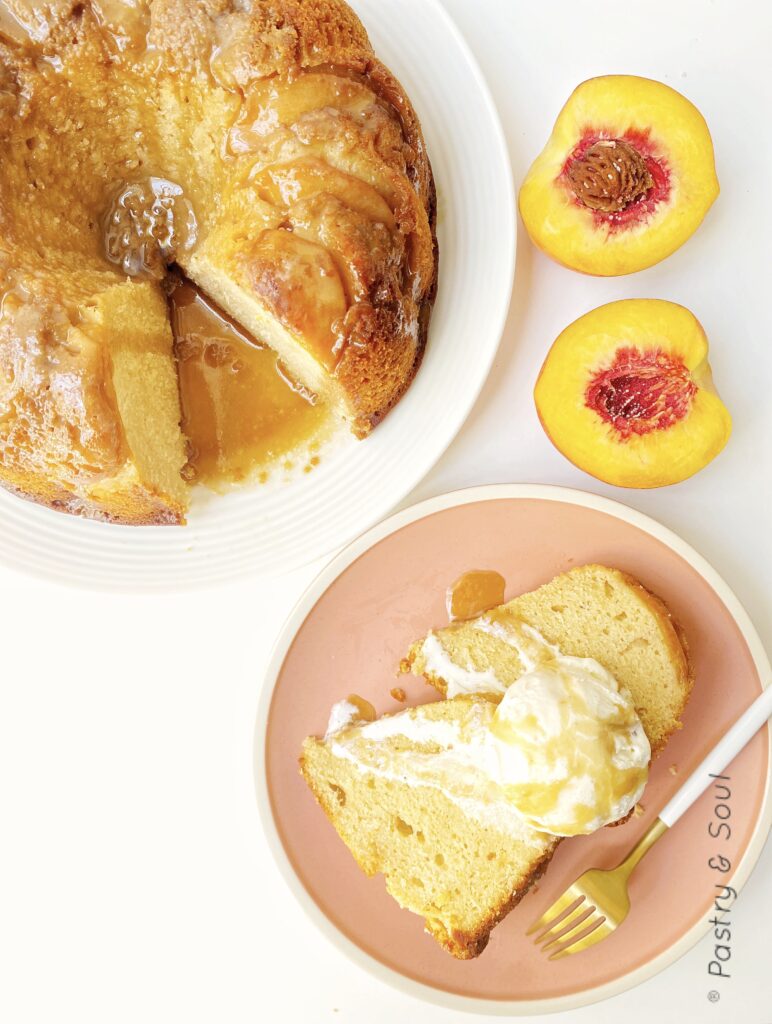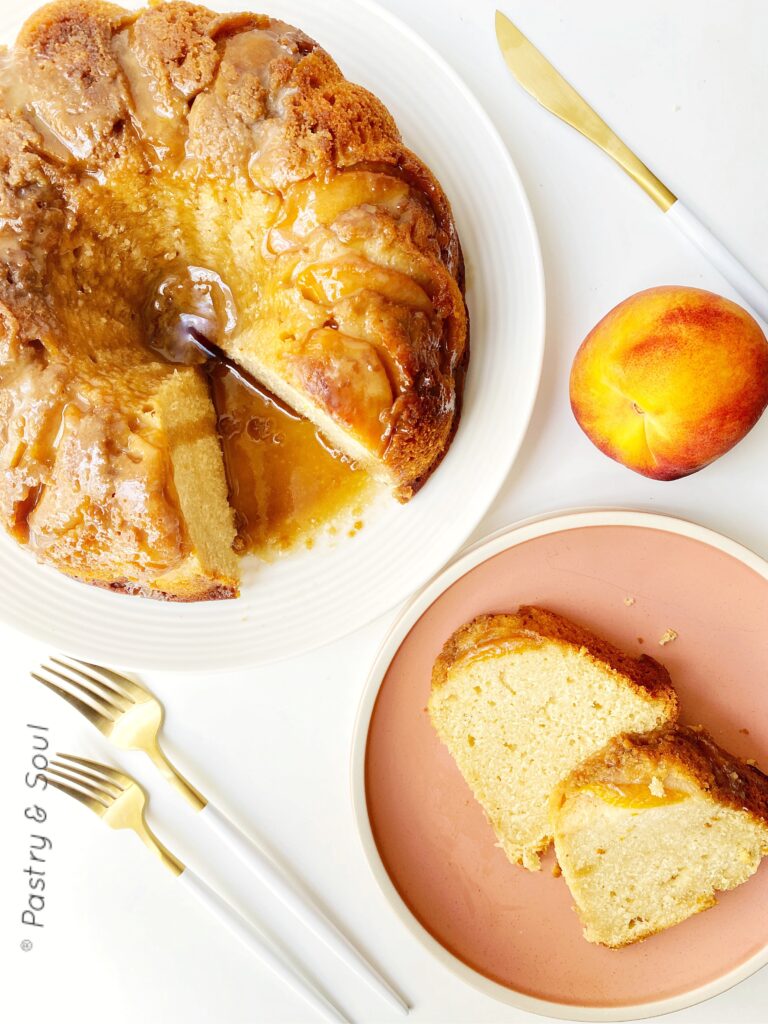 Print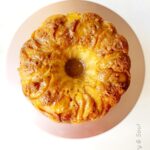 Peach Upside-down Rum Bundt Cake
---
Author:
Total Time: 2 hours (plus cooling time)
Yield: Serves 12–14 1x
Description
A devine rum cake layered with beautiful peach flavor.
---
Peach layer
1 yellow peach, sliced
1/4 cup butter, melted (for the bottom of the bundt pan with the peach)
1/2 cup brown sugar (for the bottom of the bundt pan with the peach)
Rum Cake
3 cups (360g) all-purpose flour
2 teaspoons baking powder
1  teaspoon salt
3 sticks (345g) unsalted butter, softened
3/4 cup (145g) packed dark brown sugar (light brown sugar will work as well)
1/2 cup (100g) granulated sugar
5 large eggs, room temperature
1/2 cup (120g) Greek yogurt, room temperature
2 teaspoons pure vanilla extract
3/4 cup (120ml) rum or spiced rum
1/3 cup (80ml) milk, at room temperature (almond milk was used for this recipe)
Butter Rum Sauce
¼cup (70g) unsalted butter
¼ cup (50g) granulated sugar
¼ cup (50g) light brown sugar, frmly packed
¼ cup (60ml) spiced rum
¼ cup (60ml) heavy whipping cream
1/8 (30ml)cup peach schnapps
1 pinch salt
---
Instructions
Preheat the oven to 350°F (177°C) and grease a 10-inch bundt pan.
Wash, peel and cut a peach.
In a sauce pan, melt 1/4 cup butter then add 1/2 cup brown sugar and mix until combined. Pour into the bundt pan and add the sliced peach to the bottom of the bundt pan, then set aside.
In a large bowl, whisk together the flour, baking powder, nutmeg, and salt the set aside.
Use a hand held mixer and a large bowl or standing mixer with a whisk attachment to mix the butter, brown sugar, granulated sugar, and lemon zest together until creamed, about 2 minutes.
Next, add each egg one at a time and mix after each egg. Add the Greek yogurt, and vanilla and mix on medium speed until well combined. Be sure to scrape down the sides so that your ingredients are well combined.
Slowly add the dry ingredients into the wet ingredients and mix on low speed.
Slowly pour in the rum and milk. Mix the thick batter on medium speed.
Pour the cake batter evenly over the peaches in the bundt pan.
Bake for 60 minutes or until a toothpick inserted into the cake comes out clean with just a couple lightly moist crumbs.
Remove the cake from the oven and allow it to cool for at least 1 hour to 2 hours inside the pan.
Invert the cake onto a wire rack or serving dish.
Rum sauce:
Melt the butter and brown sugar in a sauce pan over medium heat. Whisk in the heavy cream, rum, peach schnapps, and salt. Bring to a boil and boil for 4-5 minutes. Transfer to a heat proof measuring cup or bowl and allow the sauce to cool to room temperature. If not using right away, store in the refrigerator for up to 1 week. Warm slightly and stir before using.
Using a skewer, Gently poke the cake with a 5 – 10 holes. Then pour some of the sauce over the top of the cake.
Enjoy!
Notes
Serve the cake with vanilla ice cream and drizzle some more sauce of the top for some more decadence!
Store the cake at room temp for up to 2 days, in the refrigerator for about a week or in the freezer for up to 2 months.
Prep Time: 20 minutes
Cook Time: 60 minutes
Category: cake
Keywords: rum cake, cake, bundt cake, fruit cake