Be sure to try out this ultra refreshing watermelon strawberry and basil sorbet for a light sweet treat!
Yes, we're nearing the end of summer 2020, but that doesn't mean that we have to drop all of the melons and berries for pumpkin spice just yet! It's definitely still pretty warm outside in Los Angeles, so this treat will keep you cool and help you hang on to summer just a little bit longer. This watermelon strawberry and basil sorbet is a wonderful cool treat for those of us who are vegan, lactose intolerant, and/or need a simple sweet treat to hit the spot.
One of the highlights of this dessert is that there is no added sugar! I definitely love sugar, but there's no need for additional sugar in this recipe. The sweetness from the ripe watermelon and strawberries is just the right amount of sugar for this watermelon strawberry and basil sorbet.
The natural sugars from fruits are perfect for many recipes, so it's not always necessary to add extra sugar to desserts with fruit fillings or toppings. If you have a sweet tooth, then feel free to add a tough of honey or a tiny spoonful of sugar for a hint of extra sweetness.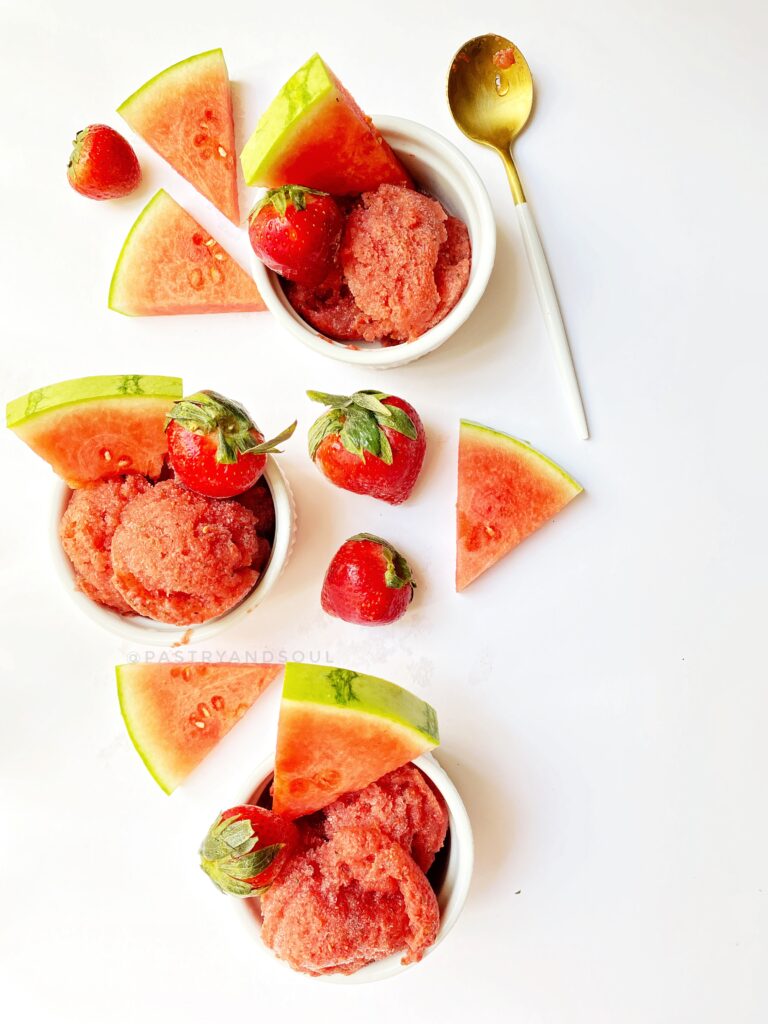 What you'll need for this refreshing watermelon strawberry and basil sorbet
Frozen watermelon
Frozen strawberries
Basil
Lemon juice
THIS POST MAY CONTAIN AFFILIATE LINKS. PLEASE READ MY PRIVACY & DISCLOSURE POLICY.
Tools for this recipe
Blender or food processor
Measuring cups
Measuring spoons
Freezer-safe container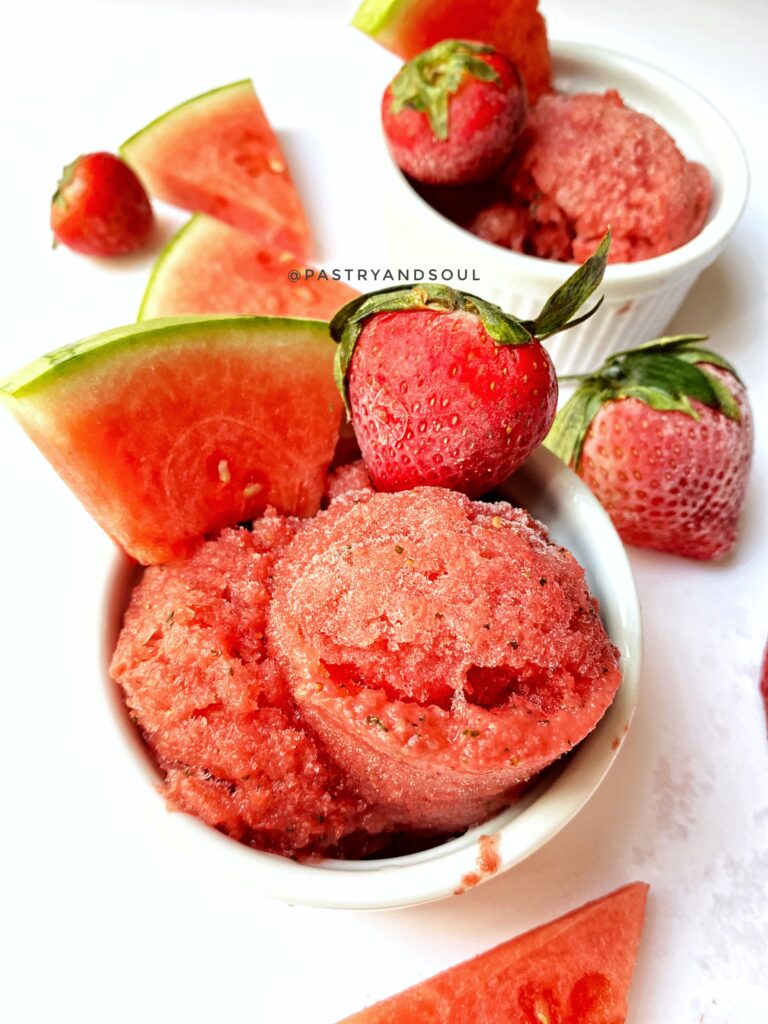 Try out some other refreshing recipes!
These recipes are also fruity and fun recipes that keep you cool throughout the warm months. If you're a fan of fruit recipes, the I highly recommend that you check out these recipes!
Print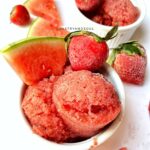 Watermelon-strawberry and basil sorbet
---
Author:
Total Time: 8 hours and 10 minutes
Yield: 4 servings 1x
Description
Perfectly refreshing dairy-free and low sugar treat!
---
4 cups frozen watermelon (ripe and seedless)
2 cups frozen strawberries
10 fresh basil leaves
Zest of 1 lemon
Juice of 1 lemon
1 tablespoon honey (optional)
---
Instructions
Combine all of the ingredients in a food processor or blender. Blend until smooth. Depending on the appliance that you're using, you may need to blend on low speed first, then gradually increase. It also helps to slightly thaw out the fruit or add 1/4 cup of liquid (water, dairy-free milk, or lemon juice) to help the fruit blend.
Transfer the mixture into a freezer safe container with a lid and freeze for at least 4 hours.
Remove the sorbet from the freezer and briefly whisk. It will have a bit of a slushy consistency.
Put the sorbet back in the freezer for at least 4 more hours.
Enjoy!
Notes
The sorbet will freeze well for about 2 weeks.
Allow the sorbet to slightly thaw, so that you can easily scoop it out of the container.
Prep Time: 10 minutes
Cook Time: 8 hours
Category: sorbet, sherbert, ice cream
Keywords: sorbet, sherbert, ice cream, dairy-free, vegan, no added sugar