Ice cream is one of the best desserts that has ever graced this world. I've had some amazing ice cream over the years, but this No-Churn Homemade Mixed Berry Jam Ice Cream is even better since it's mouthwatering and easy to make. This mixed berry jam ice cream with vanilla sandwich cookies is so creamy that you'll have to make sure that you share this with your friends before you finish all by yourself!
This No-Churn Homemade Mixed Berry Jam Ice Cream is seriously one of the THE best flavor combinations you'll ever have. It's a must if you're a fan of berries and ice cream. Try out this ice cream today!
If you're looking for another delicious dessert, then try out my fruit tart recipe or my Ultimate Triple Chocolate Chip Cookie recipe.
THIS POST MAY CONTAIN AFFILIATE LINKS. PLEASE READ MY PRIVACY & DISCLOSURE POLICY.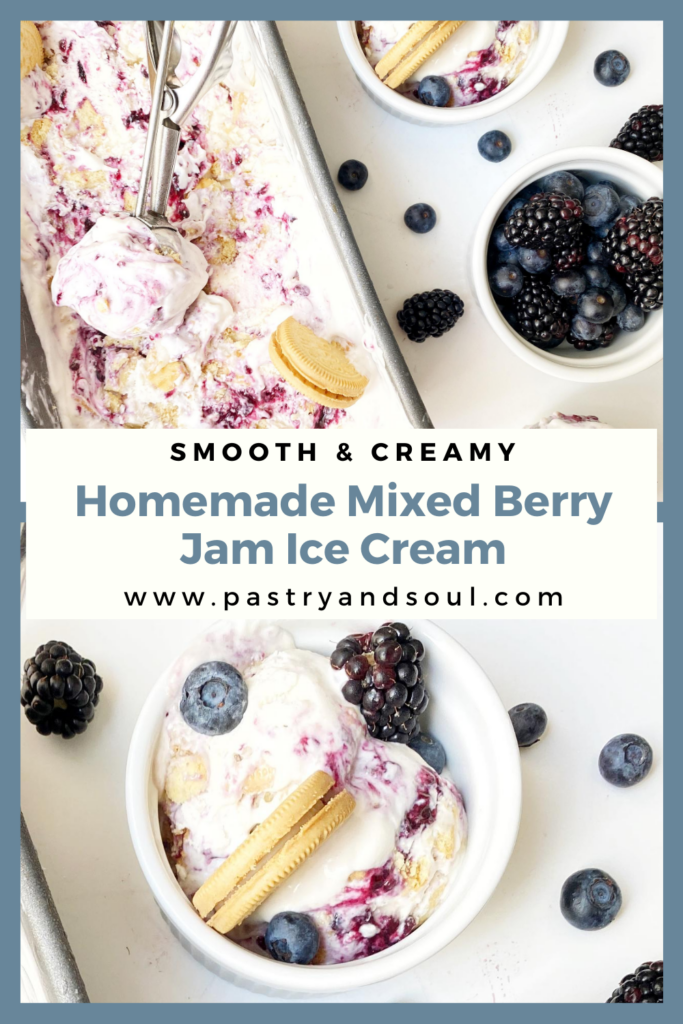 Why is this ice cream called "no-churn"?
This ice cream is called "no-churn" because there is no traditional ice cream churning involved in an ice cream maker. This makes no-churn ice cream super easy to make because you don't have to worry about over churning your ice cream. Over churning ice cream will create an ice cream with an extremely icy texture.
What you'll need for this no-churn mixed berry ice cream
INGREDIENTS:
Heavy whipping cream
Sweetened condensed milk
Vanilla extract
Salt
Granulated Sugar
Assortment of berries: Blueberries and blackberries were used for this recipe.
Lemon juice: Lemon juice will cut the sweetness of the jam.
Vanilla Sandwich cookies: Vanilla sandwich cookies add a nice crunch
TOOLS:
Saucepan
Muddler or potato masher
Jam jars
Standing mixer
Metal loaf pan (9 inches x 5 inches x 3 inches)
Plastic wrap
Tips for this recipe
Be sure to break or cut the vanilla sandwich cookies into pieces before the ice cream solidifies.
Be sure to store any left over jam in a clean glass jar.
A 9×5 inch loaf pan was used to store this ice cream during the freezing process.
Empty plastic ice cream containers are perfect for storing your homemade ice cream!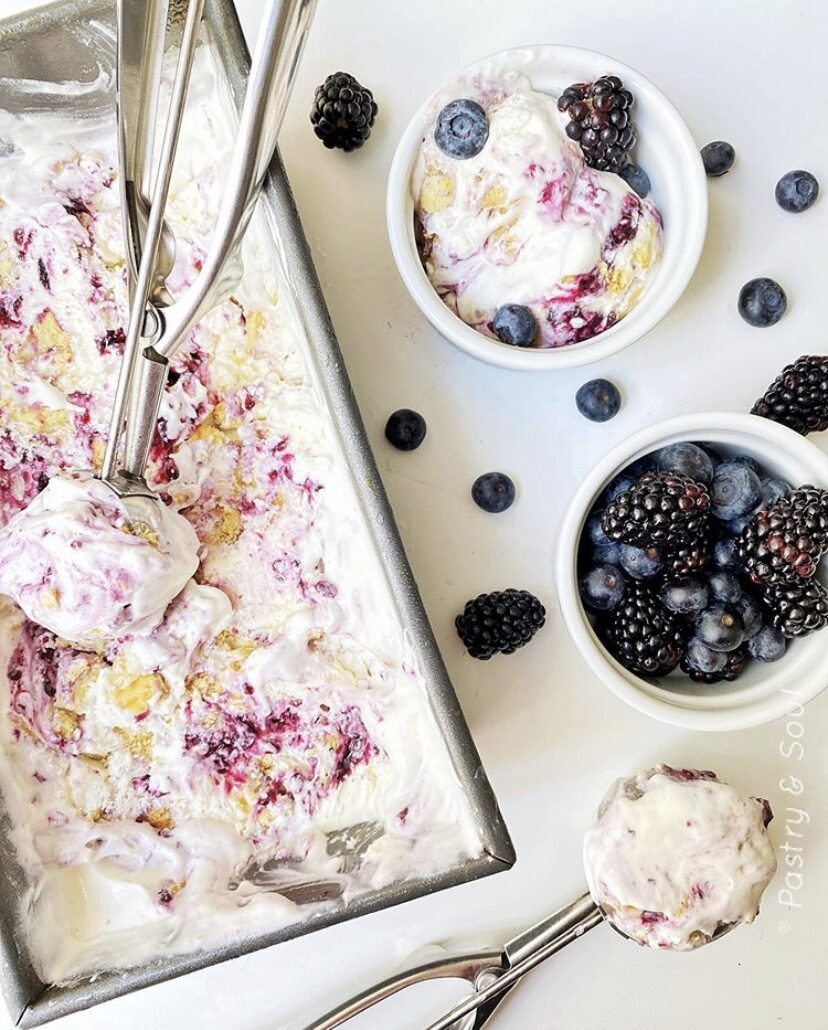 Print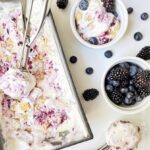 Homemade No Churn Mixed Berry Jam Ice Cream
---
Author:
Total Time: 5 hours 15 min (including freezing time)
Yield: 12 servings (6 cups) 1x
Ice Cream
14 ounces sweetened condensed milk
2 teaspoons vanilla extract
pinch of salt
2 cups heavy cream, cold
Mixed Berry (Blackberry and blueberry) Jam
1 pound fresh berries
1/2 cup granulated sugar
2 tablespoons lemon juice
pinch of salt
Other Mix-In
10 vanilla sandwich cookies, crushed
---
Instructions
Mixed Berry Jam
Wash and clean berries, then cut them into even pieces and add berries into a saucepan.
Add sugar to the saucepan and mash the berries with the fruit using a potato masher or muddler.
Add the lemon juice.
Boil the berries for 20 minutes over medium heat while stirring occasionally. 
Take a bit of the hot jam and put it on a frozen spoon then wait for it to cool. If you're able to run your finger through the jam and you can clearly see the back of the spoon, then your jam is set. The jam should no longer be in a liquid state.
Remove the jam from the heat and transfer it to a clean jar. 
All the jam to cool completely before refrigerating. 
Ice Cream
Chill a 9-by-5-by-3-inch metal loaf pan in the freezer for 1 hour.
Whisk together the condensed milk, vanilla and salt in a large bowl and set aside.
Whip the heavy cream in a standing mixer on medium-high or in a bowl using a hand mixer until stiff peaks form.
Fold half of the whipped cream into the condensed milk mixture with a rubber spatula until just combined. Next fold in the other half of the whipped cream until well completely combined.
Pour the mixture into the chilled 9-by-5-by-3-inch metal loaf pan, then cover freeze for 2 hours until the ice cream is thick and creamy.
Swirl in the mixed berry jam  and crushed vanilla sandwich cookies using a long skewer. Place the pan back into the freezer for  3 more hours until the ice cream is solid, but scoop-able. 
Enjoy!
Prep Time: 15 minutes
Category: ice cream
Keywords: ice cream, homemade ice cream, homemade jam