I have to admit that I'm not a fan of oatmeal and raisins. Why do I have a blog post about oatmeal cranberry and raisin cookies? Well, I'm glad you asked! I enjoy baking anything and everything for my loved ones, and many of them really love oatmeal raisin cookies, so that's why I make them.
When I was testing out new oatmeal raisin cookie recipes, this one turned out to be the winner. Golden raisins, cranberries , and brown butter elevate this cookie. They were so good that I started thinking, "Am I an oatmeal raisin cookie fan, now?". Check out this oatmeal cranberry and raisin cookies recipe even if you're not an oatmeal raisin cookie lover. You might just change your mind!
Brown butter makes pretty much every sweet and savory treat EXTRA delicious! Learn how to brown butter here!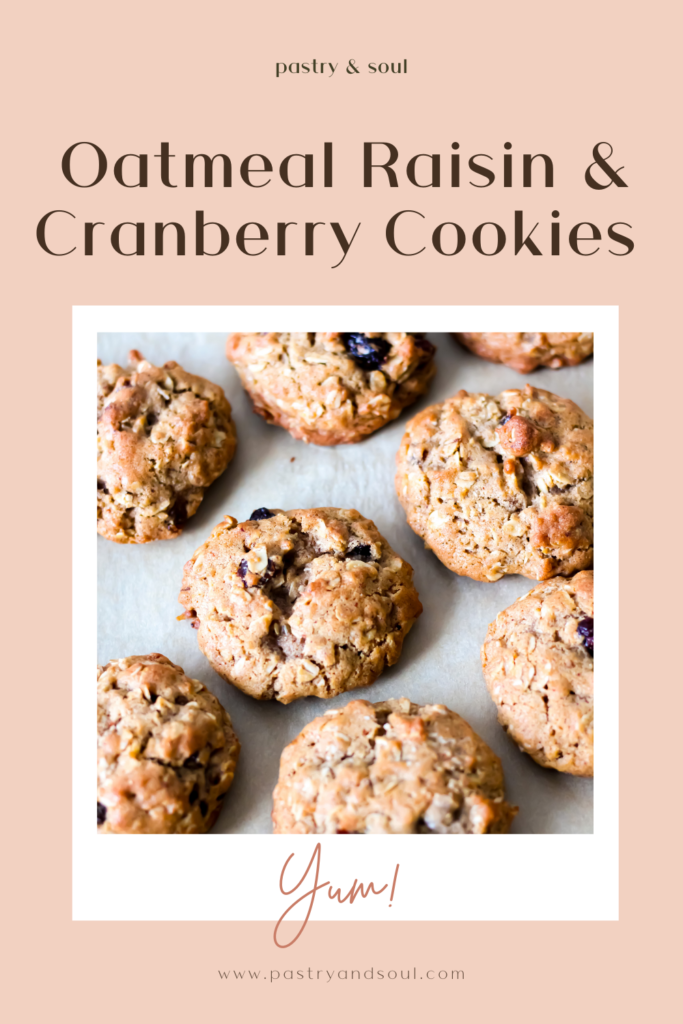 What you will need for these Oatmeal Cranberry and Raisin Cookies!
Unsalted Butter: It's always best to use unsalted butter, so that you're able to control the amount of salt in your cookies. If you don't have unsalted butter, then you can salted butter, but it's possible that your cookies will be saltier than desired. You may need to reduce the amount of salt or omit it completely if you use salted butter. This cookie recipe has contains brown butter which provides a rich, warm and deeper flavor to the cookies. Check out my video on how to brown butter!
Sugar: My ideal cookies always have brown sugar and white sugar. Light or dark brown sugar will work for this recipe. Dark brown sugar contains more molasses than light brown sugar, so this will make your cookies more moist, chewier and darker.
Eggs: It's best to use room temperature eggs. Adding one egg plus one egg yolk will make your cookies chewy and less cakey.
Vanilla Extract: Vanilla is essential!
Nutmeg: The addition of nutmeg gives your cookies a warm flavor note. Freshly grated nutmeg is always a beautiful addition to baked goods, however you can certainly use ground nutmeg in this recipe.
Flour: All purpose flour was used for this recipe. Always spoon your flour into a measuring cup rather than packing the flour like you may usually do with brown sugar. Cookies spread less when there is too much flour added to the recipe. I suggest adding in the flour in batches to make it easier to incorporate the dry ingredients into the wet ingredients.
Raisins: This recipe uses both regular raisins and golden raisins. If you prefer, you can use all golden raisins or all regular raisins.
Dried Cranberries: Dried cranberries add a delicious fruity and tart flavor to the cookies.
Salt: Always use salt in your baked goods. Salt balances out the sweetness of cookies.
Baking Soda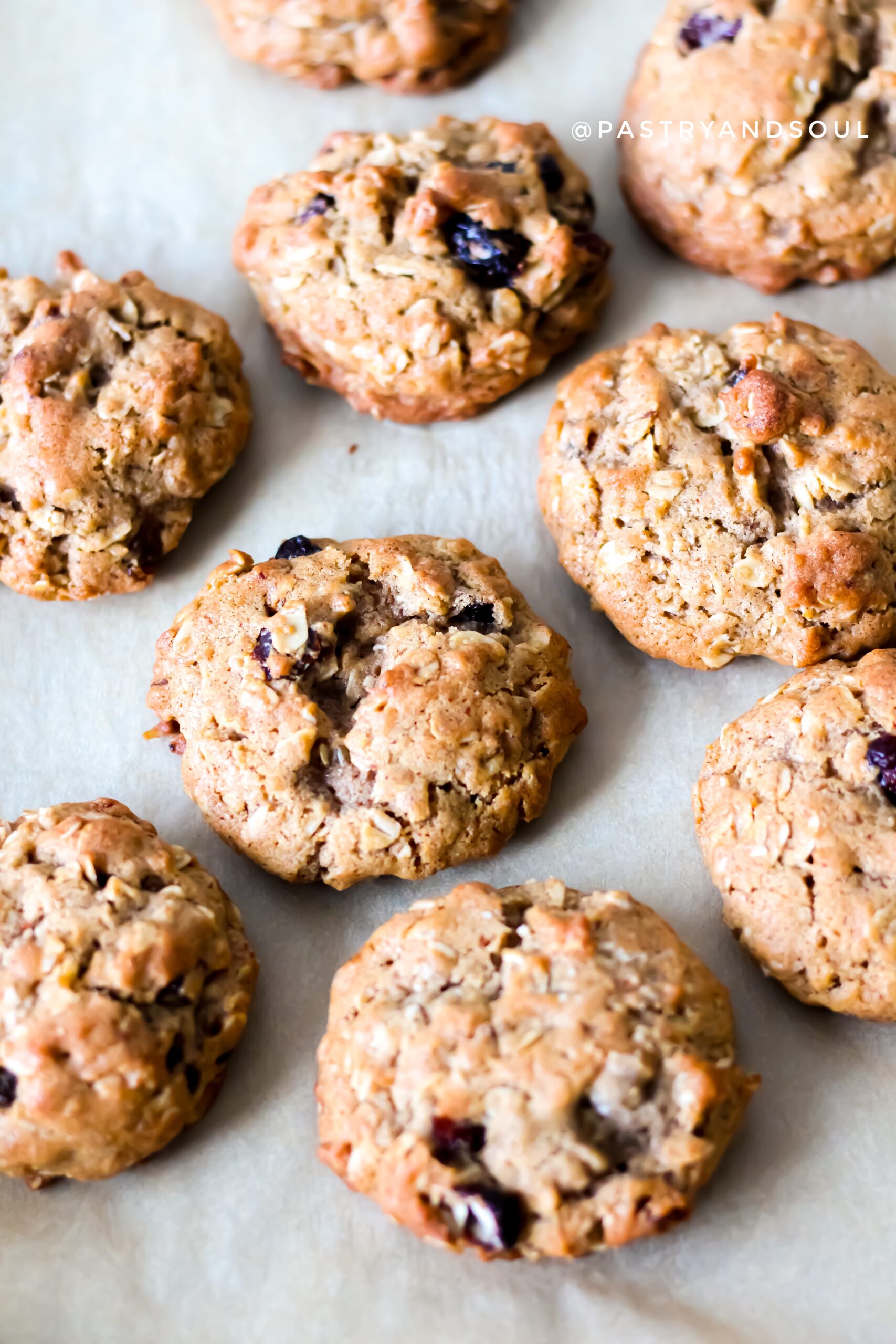 Print
Oatmeal Cranberry and Raisin Cookies
---
Author:
Total Time: 28 minutes
Yield: 16 1x
3/4 cup unsalted butter, browned
1 cup brown sugar, packed
1/4 cup granulated sugar
1 egg + 1 egg yolk, room temperature
1 tablespoon vanilla extract
1 1/2 cup all purpose flour
1 teaspoon salt
1 1/2 cups old fashioned oats
1/2 tablespoon cinnamon
1/8 teaspoon nutmeg
3/4 teaspoon baking soda
1/4 cup golden raisins
1/4 cup raisins
1/4 cup dried cranberries
---
Instructions
Begin with browning the butter over medium heat. The butter will start to foam as it melts and will turn golden brown.  A nutty aroma will be your sign to remove the pan from the heat and pour it into a heat-proof bowl to cool.
Once the butter cools, combine it in a large bowl with the brown sugar, and white sugar. Mix together until well combined. Then add in the vanilla, egg, and egg yolk. Mix well until combined.
In a separate large bowl, mix the flour, oats, cinnamon, nutmeg, golden raisins, raisins, dried cranberries, baking soda, and salt together. Mix in the dry ingredients into the wet ingredients a little at a time until its combined.
Refrigerate the cookie dough anywhere between 30 minutes to overnight.
Preheat the oven to 350°F and line a baking sheet with parchment paper
Use an ice cream scoop to scoop out 2 tbsp of cookie dough into balls.
Place the cookie dough balls 2 inches apart on the parchment lined baking sheet.
Bake for about 13 minutes. Bake until the edges of the cookies are golden brown and the middle of the cookies are nearly set (center looks slightly under baked). Oven times vary.
Cool before you eat and enjoy!
Prep Time: 15 minutes
Cook Time: 13 minutes
Category: Cookies, snacks
Keywords: oatmeal cookies, oatmeal raisin cookies, oatmeal