Make these Ghanaian Meat Pies for your next party!
My family hails from the great country of Ghana which is located in West Africa. As with many cultures in the world, Ghanaians love a good party with good food! Even though I was born and raised in California, my parents never let me forget where they came from and always made sure that I was connected to our African roots. Snacks at home weren't just sandwiches, peanut butter sandwiches, chips, cookies and fruits and vegetables, but they also included many Ghanaian snacks such as Ghanaian Meat Pies.
Meat pies are one of my favorite snacks to eat because of the flaky pastry dough and the savory meat filling. They're perfect for parties and even better to heat up for a mid-day snack!
Try out some of my other recipes that will also be perfect for your next party! Need a good cocktail for the adults at your gathering? Make my Blueberry and Blood Orange Margarita! Are you in need for a dessert for your party? Be sure to try out my Peach Upside-down Rum Bundt Cake! These recipes along with the meat pie recipe are sure to make your next gathering a hit!
THIS POST MAY CONTAIN AFFILIATE LINKS. PLEASE READ MY PRIVACY & DISCLOSURE POLICY.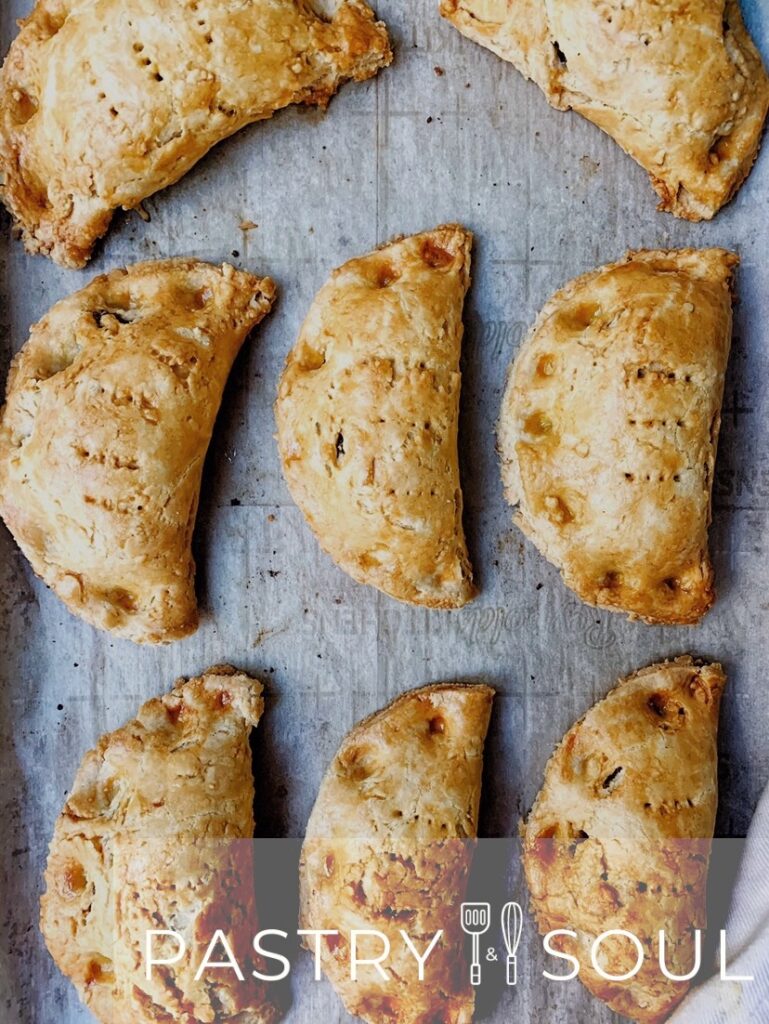 What you'll need to make Ghanaian Meat Pies
All purpose flour: All purpose flour was used for this recipe. Always spoon your flour into a measuring cup rather than packing the flour like you may usually do with brown sugar.
Unsalted butter: Cold butter is used in this recipe to ensure a flaky crust.
Eggs: Egg yolks will bind the pastry together before baking.
Ground Beef: Most Ghanaian meat pie recipes call for ground beef, but some people use ground turkey. I've also tried this recipe with ground pork which is also delicious. For a vegetarian-friendly option, you can omit the ground beef and add tofu or extra vegetables.
Chicken Bouillon Cubes or Seasoning Cubes: These cubes are packed with flavor. Popular chicken bouillon cubes include Knorr Chicken Bouillon Cubes. Maggie Seasoning Cubes are popular in African cooking.
Granulated sugar
Salt
Baking Powder
Habanero Peppers or Scotch Bonnet Peppers
Potato
Onion
Garlic cloves
Seasoning Salt
Black Pepper
Thyme
Paprika
Cayenne Pepper
Vegetable Oil
Print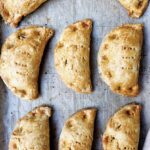 Ghanaian Meat Pies
---
Author:
Total Time: 2 hours
Description
These Ghanaian Meat Pies are the perfect snack and party treat!
---
Dough:
4 cups (500g) flour
1 teaspoon of salt
1 teaspoon of baking powder
1 tablespoon sugar (optional)
16 tablespoons (250g) butter
1 cup cold water
2 eggs, beaten
Meat Filling
1 large potato
400g minced meat
1 medium white onion
1 clove, garlic
2 tablespoons vegetable oil
1 habanero pepper or scotch bonnet pepper (optional)
1 teaspoon cayenne pepper (optional if you plan on using a habanero pepper or scotch bonnet pepper)
1 teaspoon seasoning salt
1 Maggie cubes
1 teaspoon thyme
1 tablespoon flour
3/4 cup water or chicken stock (homemade chicken stock was used for this recipe)
Salt to taste
---
Instructions
Dough:
Add the flour, salt, sugar baking powder into a mixing bowl and whisk until combined.
Using your fingers, add in the butter and incorporate the butter into the flour mixture until a breadcrumb texture forms.
Create a hole/well in the middle of your flour/butter mixture, add in 2 beaten eggs, and mix until well incorporated. Do not over mix.
The dough should start to form, but you may add in about ¼ cup of cold water to help form the dough into a ball.
Sprinkle 1/3 cup flour over the dough. Work the flour into the dough until the flour has disappeared. You can stop kneading after this point.
Cover the dough with plastic wrap.
Place the bowl in the refrigerator to allow the dough to rest for at least 30 minutes.
Begin working on the meat pie filling.
Meat Pie Filling
Preheat the oven to 350 degrees Fahrenheit (170 degrees Celsius).
Heat the vegetable oil in a frying pan.
Dice the onion into small pieces and add to the pan. Cook the onions on medium heat until slightly translucent.
 Add in the chopped garlic clove and cook until fragrant.
If you would like to add a habanero or scotch bonnet pepper, then you can cut in into small pieces and add it at this point.
Peel and cut the potato into small cubes and set aside. Avoiding cutting the potatoes too small to prevent having mashed potatoes in your meat pie.
 Add the ground beef to the pan and cook until brown and no pink is visible. Be sure to mix the ground beef with the onions, garlic and peppers.
Add your chicken stock cubes (if using), seasoning salt, black pepper, thyme, and paprika to the ground beef mixture and mix well.
Then add in the diced cubed potatoes and mix.
Add in enough chicken stock or hot water to slightly cover the ground beef and potatoes.
Lower the heat and simmer for 5 minutes. This allows the potatoes to slightly cook. The potatoes will continue to cook when the meat pies are baking in the oven.
Increase the heat and cook until the most of the liquid has evaporated.
Next, evenly sprinkle 1 tablespoon of all-purpose flour over the ground beef and potatoes and mix well, so that clumps do not form. 
Simmer the mixture for about 5 minutes to allow to cook out the flour. You'll see the ground beef and potato mixture thicken.
Remove the pan from the heat.
Assembling the meat pies
Lightly dust your work surface with flour.
Using a rolling pin, roll out one of the dough balls to Take one of your dough balls and roll out evenly using a rolling pin, roll it out to 1/8 to ¼ in thickness.
Use a bowl, coffee mug or cookie cutter to cut out a circle shape.
Place a spoonful of the meat pie filling onto the center of the dough. The amount of meat pie filling that you add depends on how big you've made your circles. Do not over fill the pies.
Gently fold over one edge of the dough over to the other side and press firmly along the sides of the dough.
Crimp the edges with a fork to seal the meat pies.
Using a pastry brush (or your finger if you don't have a pastry brush), brush the surface of the pies with 1 beaten egg.
Once you've used up all of the dough and the meat filling, place pies on a baking sheet lined with parchment paper or a lightly greased non-stick baking sheet.
Using a fork, carefully poke holes into the meat pies to allow steam to escape while the pies are baking.
Bake on the center rack of the oven for 35-40 minutes. Check the pies halfway through the baking process.
Remove the meat pies from the oven and cool for 10 minutes.
Enjoy!
Notes
Plan ahead and determine the size of the meat pies that you wish to make This will determine the number of the circles that you cut out and the number of meat pies that you'll yield.
Prep Time: 1 hour 30 minutes
Cook Time: 35-40 minutes
Cuisine: Ghanaian, African
Keywords: Ghanaian meat pies, West African meat pies, Nigerian meat pies, Ghana, Ghanaian cuisine