Learn how to make a fruit tart with pastry cream!
I'm obsessed with fruit tarts and pastry cream! I seriously can't get enough of them. ESPECIALLY when they're topped with berries! Blueberries, strawberries, raspberries…I love them all! Any dessert with pastry cream and a flaky pastry crust will warm my heart. Fruit tarts can also be made with a graham cracker crust. The part that I enjoy the most about making fruit tarts is curating a design.
The process of placing each piece of fruit on top of the pastry cream is therapeutic for me and I seriously don't think of anything else as I'm completing my masterpiece. My second favorite part of making fruit tarts is the pastry cream. The recipe below is adapted from a Martha Stewart recipe, however, the traditional way of making pastry cream is also fun to make!
Check out how to make this dessert here!
Try out other desserts such as my Peach Upside-down Rum Bundt Cake!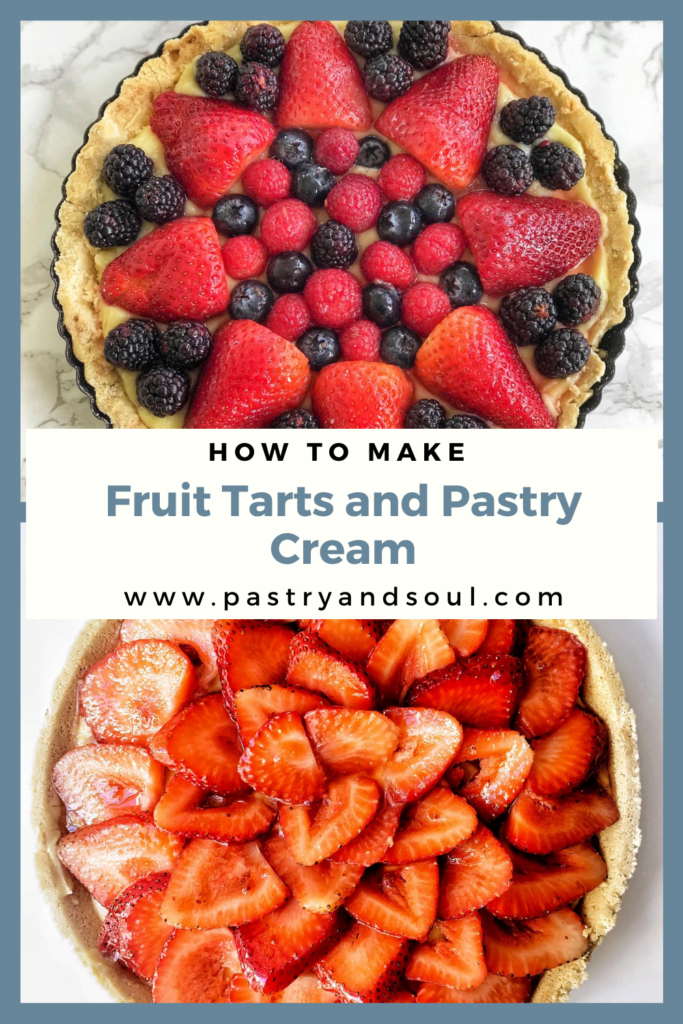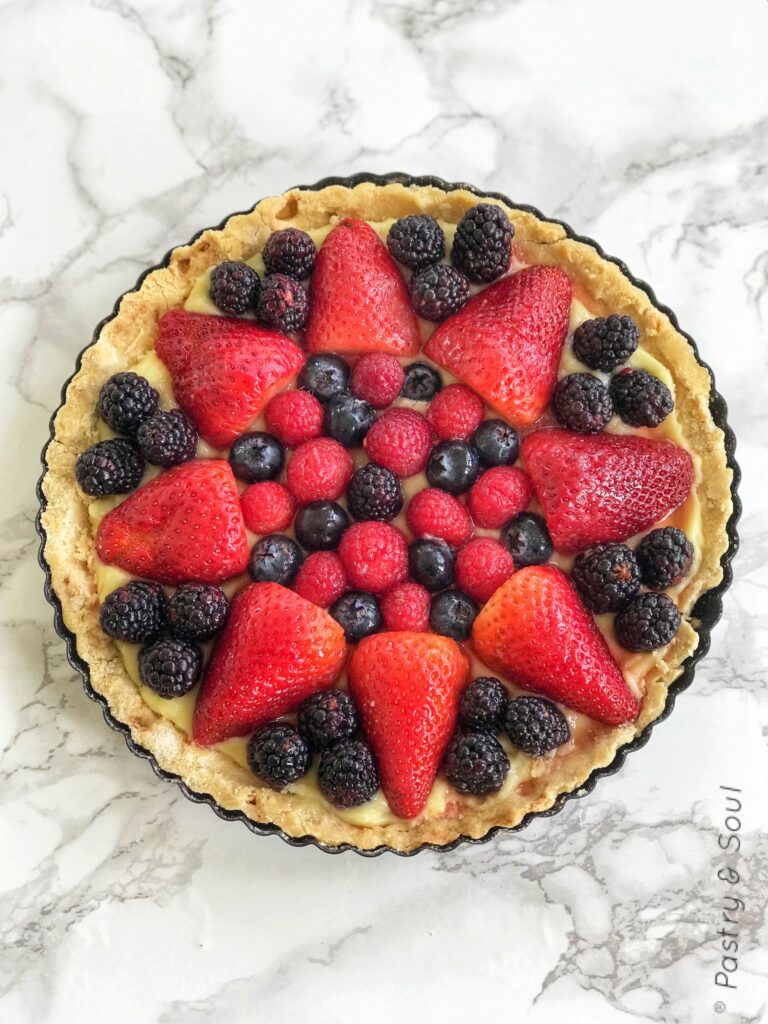 What you will need to make a fruit tart and pastry cream
Unsalted butter: Cold butter is used in this recipe to ensure a flaky crust.
Flour: All purpose flour was used for this recipe. Always spoon your flour into a measuring cup rather than packing the flour like you may usually do with brown sugar.
Egg Yolk: An egg yolk will bind the crust together before baking.
Powdered Sugar: Powdered sugar is used in the crust of the fruit tart.
Granulated Sugar: Granulated sugar adds sweetness to the pastry cream.
Cornstarch: Cornstarch is used to thicken the pastry cream.
Salt
Milk: Almond milk was used in this recipe
Vanilla Extract: Vanilla adds a beautiful flavor to the pastry cream. You can also use almond extract.
Fruits: The beauty of fruit tarts is that you can choose pretty much any fruit to add to your tart. I absolutely love berries, so I frequently use fresh berries on my tarts.
Print
How to Make a Fruit Tart and Pastry Cream
---
Author:
Total Time: 3 hours 10 minutes
Yield: 8 slices
Description
A fun and easy fruit tart and pastry cream recipe!
---
Pastry Crust
·       100 g unsalted butter, cold
·       175 g all purpose flour
·       1 egg
·       1 tbsp water, cold
·       25 g icing sugar
Pastry Cream
·       1/2 cup granulated sugar
·       1/4 cup cornstarch
·       pinch of salt
·       2 cups milk
·       4 egg yolks
·       2 tbsp unsalted butter
·       1 tsp vanilla extract
---
Instructions
Pastry Crust
1.     Whisk dry ingredients together or pulse together in a food processor
2.     Add in the egg yolk and water, then mix. The dough should come together.
3.     Refrigerate the dough for 15 minutes
4.     Roll the dough onto a baking tin with a removable bottom
5.     Gently, but firmly press the dough into the pan
6.     Prick the bottom of the dough with a fork
7.     Place aluminum foil onto the dough and pour baking beans or dried beans to weigh it down.
8.     Bake for 10 minutes at 375 degrees Fahrenheit while you make the filling.
9.     Remove the foil and the baking beans
10.  Then bake the crust for 15 more minutes.
Pastry Cream
1.     Whisk together sugar, cornstarch, and salt in a saucepan.
2.     Whisk milk and egg yolks in a glass measuring cup then add the mixture to the saucepan along with the butter.
3.     Bring everything to a boil over medium heat and let it boil for 1 minute while still whisking. The cream will start to thicken. Remove the cream from the heat as soon as the cream starts to thicken. Then stir in the vanilla.
4.     Strain the pastry cream through a wire mesh sieve
5.     Cover the pastry cream with plastic wrap by pressing the plastic wrap onto the surface to the cream. Refrigerate the pastry cream for up to 2 hours.
6.     Assemble the tart by adding the pastry cream into the tart shell. Then add on any fruits your heart desires! Enjoy!
Prep Time: 2 hours 20 minutes (including refrigeration time)
Cook Time: 25 minutes
Category: fruit tarts
Keywords: pastry cream, fruit tart, tart, berries, fruits, pastries