Make this quick, delicious, and perfectly moist zucchini bread for a quick summer and fall treat! It's an awesome recipe for the extra zucchini from your summer harvest.
I'm not the biggest fan of zucchini bread, however, I'm trying to step out of my comfort zone and try foods that I've been known to dislike since childhood. When I tried zucchini again after several years of disdain for this summer squash, I realized that it really isn't that bad. It's even better when it's baked into a warm and sweet loaf of bread!
This quick, deliciously and perfectly moist zucchini bread recipe has the perfect amount of sweetness and moisture. If you need a fun way to incorporate vegetables into your baked goods, then this is the recipe for you!
Zucchini bread is a type of quick bread recipe, so if you enjoy quick breads, then you'll love my brown butter chocolate chip banana bread recipe! Check out the banana bread recipe here.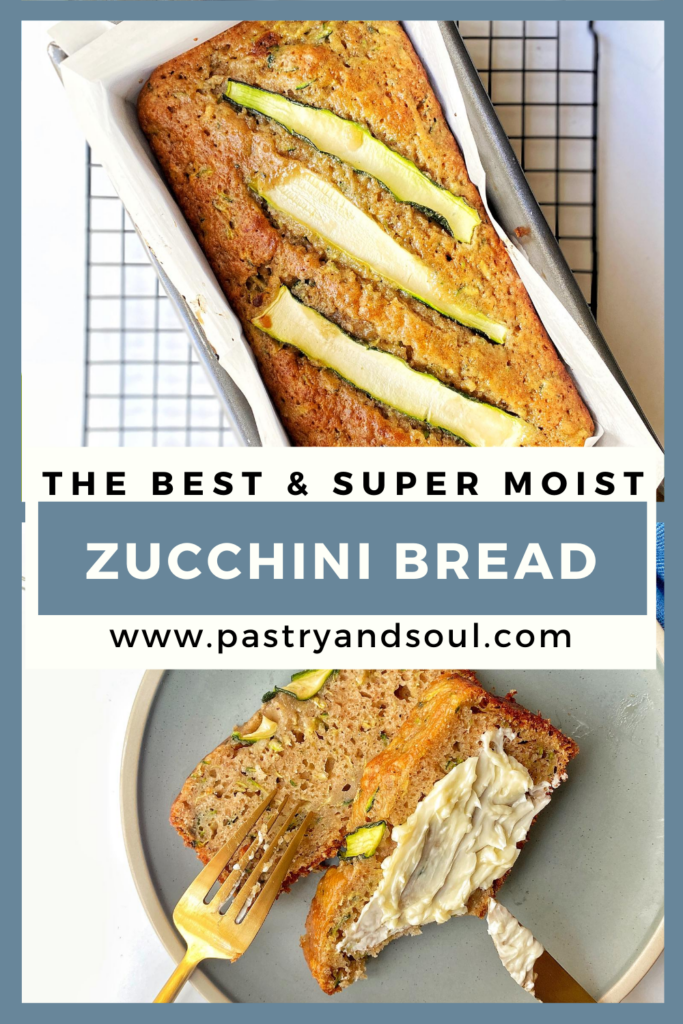 What you need for this quick, delicious and perfectly moist zucchini bread recipe!
INGREDIENTS
Zucchini: Leave the skin on the zucchini before grating. Do not peel. Also, do not squeeze or drain out the liquid from the zucchini. I prefer to use the side of the grater with larger holes to great the zucchini.
Brown sugar:The molasses in the brown sugar adds to the moisture in the zucchini bread. You can use either light brown sugar or dark brown sugar.
Granulated Sugar: Granulated sugar gives some additional sweetness to the zucchini bread.
Applesauce: Applesauce is a key ingredient for making this zucchini bread super moist!
Eggs: It's best to use room temperature eggs.
Vanilla Extract: Vanilla adds some additional flavor to this recipe that's not just sweetness.
Flour: All purpose flour was used for this recipe. Always spoon your flour into a measuring cup rather than packing the flour like you may usually do with brown sugar.
Salt: Don't forget the salt, so that your zucchini bread doesn't taste insanely sweet.
Baking soda
Baking powder
Vegetable oil: Vegetable oil also adds to soft and moist crumb.
Pumpkin pie spice: I love the warm flavor profile of pumpkin pie spice! It's my favorite ingredient for fall recipes! If you don't have pumpkin pie spice, then you can use a combination of cinnamon, cloves, nutmeg and ground ginger.
THIS POST MAY CONTAIN AFFILIATE LINKS. PLEASE READ MY PRIVACY & DISCLOSURE POLICY. As an Amazon Associate affiliate program member, I earn a small commission for my referral at no extra cost to you. Thank you for supporting Pastry and Soul!
TOOLS
Parchment paper
Loaf pan
Large bowls
Measuring spoons
Whisk
Cooling rack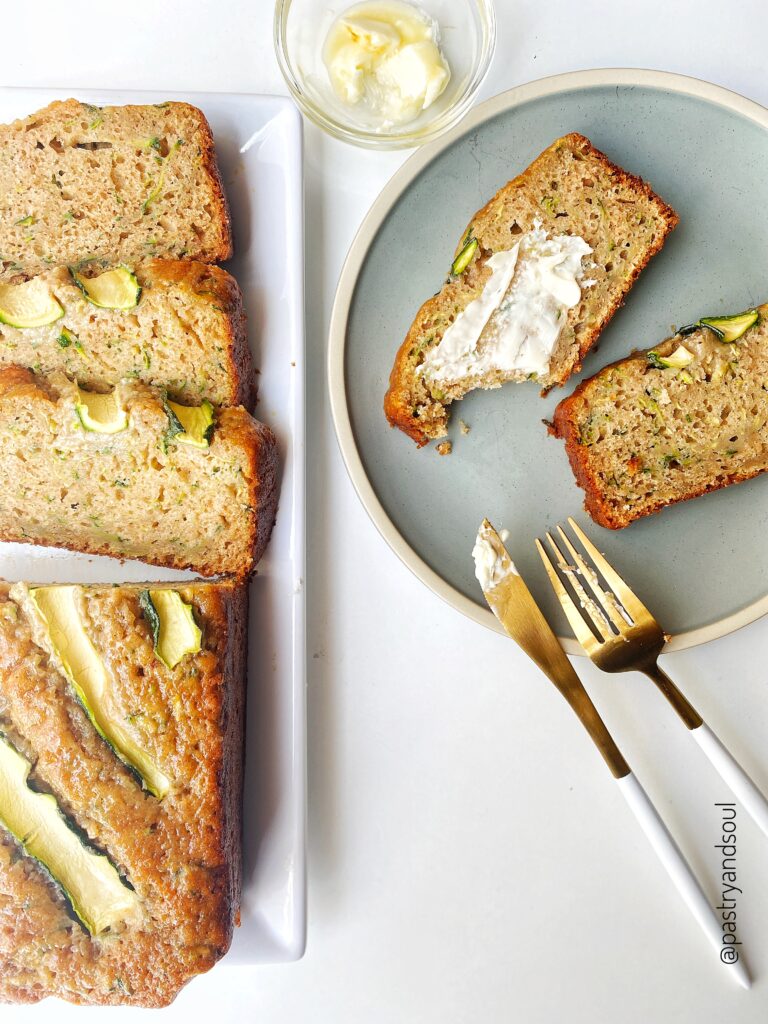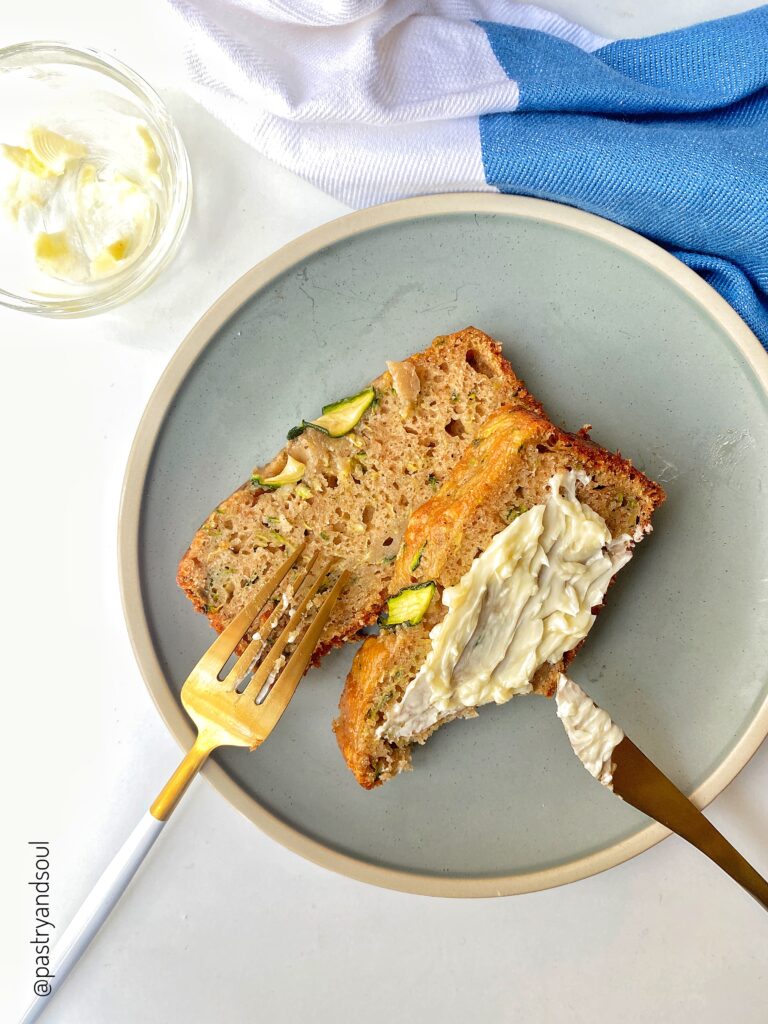 Print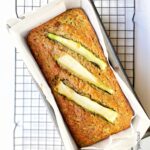 Perfectly Moist Zucchini Bread
---
Author:
Total Time: 1 hour 25 minutes
Description
Perfectly moist and quick zucchini bread recipe that's fun to make with any extra zucchinis!
---
1 1/2 cups zucchini (loosely packed)
2 large eggs
1/2 cup apple sauce
1 1/2 cups all-purpose flour
1/2 tsp baking powder
1/2 tsp baking soda
1/4 cup brown sugar
1 tsp pumpkin pie spice
3/4 cup granulated sugar
1/2 tsp salt
1 tsp vanilla
1/3 cup vegetable oil
---
Instructions
Preheat oven to 350º. Line a loaf pan with parchment paper.
In a large bowl, whisk together flour, baking soda, baking powder, salt, and pumpkin pie spice.
In a second large bowl, mix together eggs, vanilla, apple sauce, brown sugar, granulated sugar. Add zucchinis (do not squeeze out any of the water) and stir until combined. Add dry ingredients to wet ingredients until just combined. Do not over mix.
Transfer to parchment lined loaf pan.
Bake the zucchini bread for 1 hour until a toothpick comes out clean. Cool for 10 – 15 minutes in pan, then turn out onto a cooling rack to cool completely.
Prep Time: 25 minutes
Cook Time: 60 minutes
Category: quick breads
Keywords: zucchini bread, quick breads