Have you ever told yourself that you're going to eat those bananas that are still sitting on your counter? Did you purchase one too many bunches of bananas and now they're getting a little old? Banana bread is a quick bread recipe that is perfect for when you forget about those bananas in the pantry. If you have some over ripe bananas in your kitchen, then try out my brown butter chocolate chip banana bread recipe!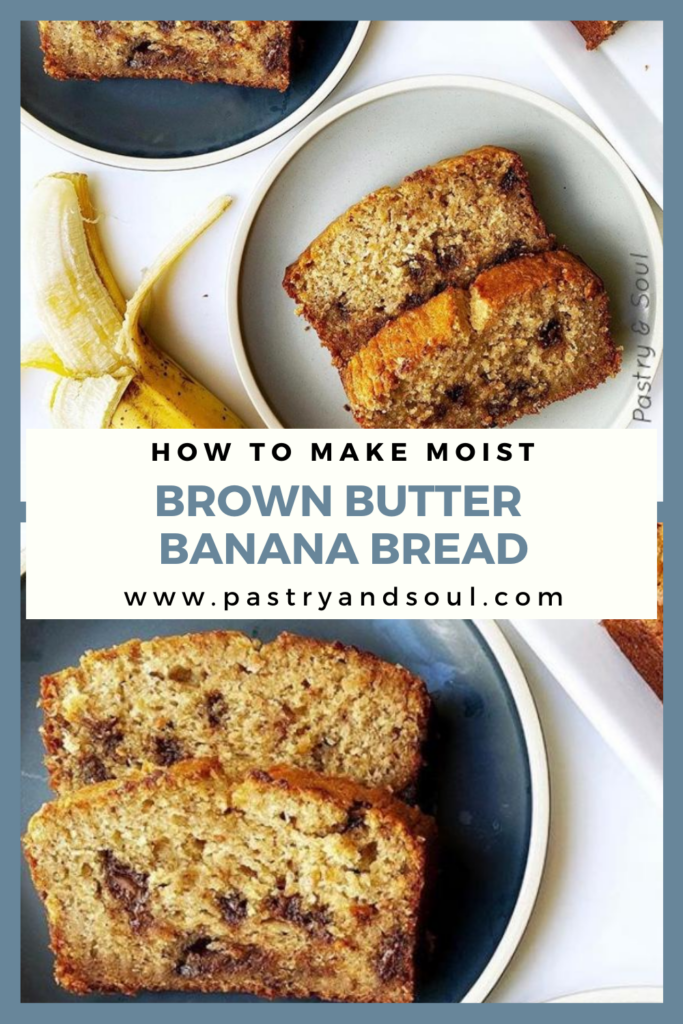 What you need for this brown butter banana bread recipe!
Bananas: Only use ripe bananas for this recipe. That's how the natural sweetness of the bananas adds to the flavor of the banana bread.
Brown Butter: Want to add a bit of oomph to your banana bread? Try adding brown butter! Brown butter adds a great depth of rich flavor which brings caramel, nutty, and warm flavors and smells to the banana bread. This brown butter chocolate chip banana bread is perfectly moist and tender. Enjoy this banana bread with coffee or tea for breakfast, a mid-afternoon snack, or a midnight snack! Learn how to brown butter here!
Brown sugar: The molasses in the brown sugar adds to the moisture in the banana bread. You can use either light brown sugar or dark brown sugar.
Granulated Sugar: Granulated sugar gives some additional sweetness to the zucchini bread.
Greek Yogurt: Plain Greek yogurt works best in this recipe. You may use vanilla Greek yogurt as well.
Eggs: It's best to use room temperature eggs.
Vanilla Extract: Vanilla adds some additional flavor to this recipe that's not just sweetness.
Flour: All purpose flour was used for this recipe. Always spoon your flour into a measuring cup rather than packing the flour like you may usually do with brown sugar.
Salt: Don't forget the salt, so that your banana bread doesn't taste insanely sweet.
Baking soda
Pumpkin pie spice: I love the warm flavor profile of pumpkin pie spice! It's my favorite ingredient for fall recipes! If you don't have pumpkin pie spice, then you can use a combination of cinnamon, cloves, nutmeg and ground ginger.
Chocolate Chips: Chocolate chips are optional, but highly recommended! If you don't have chocolate chips on hand, then you can use walnuts or pecans. You can also omit any mix-ins.
If you like this quick bread recipe, then be sure to check out my perfectly moist and delicious zucchini bread recipe here!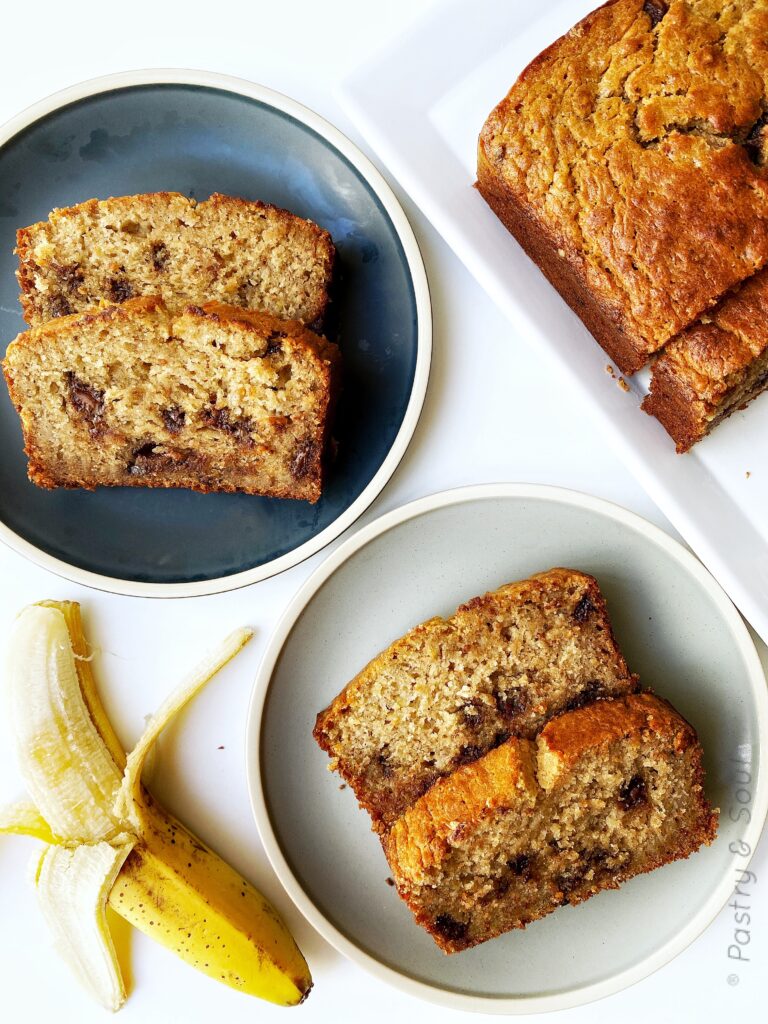 Print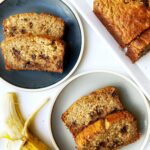 Brown Butter Chocolate Chip Banana Bread
---
Author:
Total Time: 1 hour 25 minutes
2 cups All Purpose Flour
1 tsp baking soda
1/4 tsp kosher salt
1/4 tsp pumpkin pie spice
1 cup brown butter, melted
1/2 cup granulated sugar
1/2 cup light or dark brown sugar
1 large egg
1 large egg yolk
1/4 cup plain greek yogurt
1 tsp vanilla extract
3 ripe bananas, mashed
1/2 cup semi sweet chocolate chips (optional)
---
Instructions
Preheat oven to 350º. Line a loaf pan with parchment paper.
In a large bowl, whisk together flour, baking soda, salt, and pumpkin pie spice.
In a second large bowl, mix together brown butter, granulated sugar, brown sugar, egg and egg yolk, greek yogurt, and vanilla. Add mashed bananas and stir until combined. Add dry ingredients to wet ingredients until just combined. Do not over mix.
Fold in chocolate chips and transfer to parchment lined loaf pan.
Bake the banana bread for 1 hour until a toothpick comes out clean. Cool for 10 – 15 minutes in pan, then turn out onto a cooling rack to cool completely.
Prep Time: 25 minutes
Cook Time: 60 minutes
Category: Dessert, Quick Bread, Snack
Keywords: banana bread, banana, brown butter