This recipe for the Ultimate Triple Chocolate Chip cookies comes from my hunt for the perfect chocolate chip cookies! My chocolate chip cookie journey has taken me from the grocery store, various bakeries, and multiple bags of sugar and flour to THIS recipe right here. It's currently my favorite chocolate chip cookie recipe!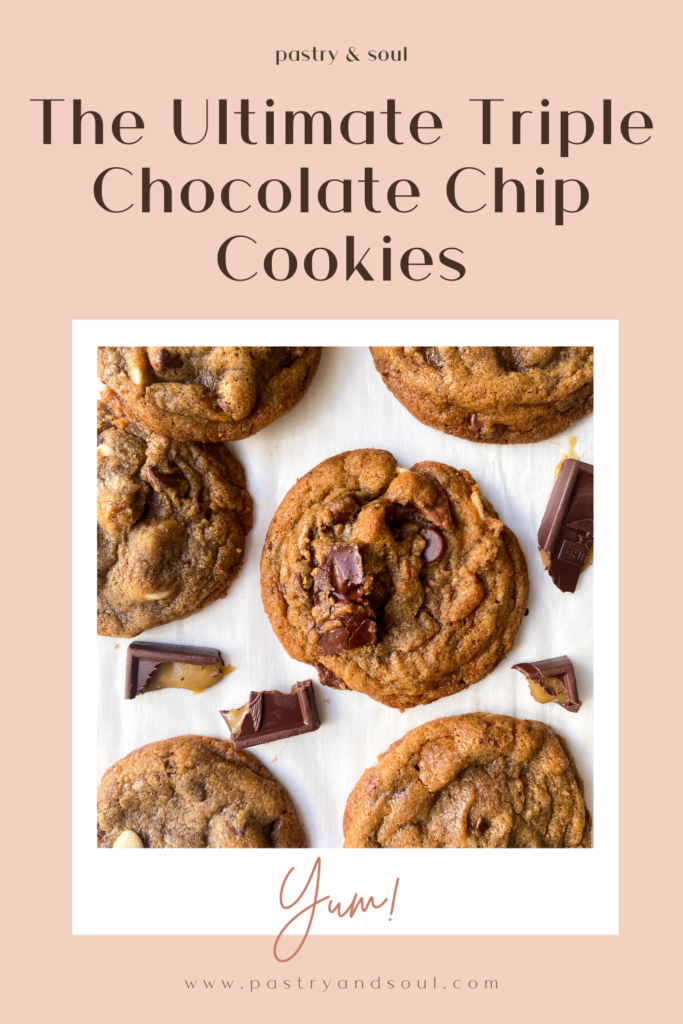 Here's what you'll need for these Ultimate Triple Chocolate Chip Cookies!
Unsalted Butter: It's always best to use unsalted butter, so that you're able to control the amount of salt in your cookies. If you don't have unsalted butter, then you can salted butter, but it's possible that your cookies will be saltier than desired. You may need to reduce the amount of salt or omit it completely if you use salted butter. This cookie recipe has contains brown butter which provides a rich, warm and deeper flavor to the cookies. Check out my video on how to brown butter!
Brown and Granulated Sugar: A perfect Chocolate chip cookie always has brown sugar and white sugar. Light or dark brown sugar will work for this recipe. Dark brown sugar contains more molasses than light brown sugar, so this will make your cookies more moist, chewier and darker.
Eggs: It's best to use room temperature eggs. Adding one egg plus one egg yolk will make your cookies chewy and less cakey.
Vanilla Extract: Vanilla is essential!
Nutmeg: The addition of nutmeg gives your cookies a warm flavor note. Freshly grated nutmeg is always a beautiful addition to baked goods, however you can certainly use ground nutmeg in this recipe.
Flour: All purpose flour was used for this recipe. Always spoon your flour into a measuring cup rather than packing the flour like you may usually do with brown sugar. Cookies spread less when there is too much flour added to the recipe. I suggest adding in the flour in batches to make it easier to incorporate the dry ingredients into the wet ingredients.
Chocolate Chips: This recipe uses dark chocolate, white chocolate, and semisweet chocolate chips and chocolate chunks. Aim for using high quality chocolate to truly make these cookies the ultimate and the best chocolate chip cookies.
Salt: Always use salt in your baked goods. Salt balances out the sweetness of cookies.
If you love all kinds of cookies, then be sure to check out my Oatmeal Cranberry and Raisin cookie recipe!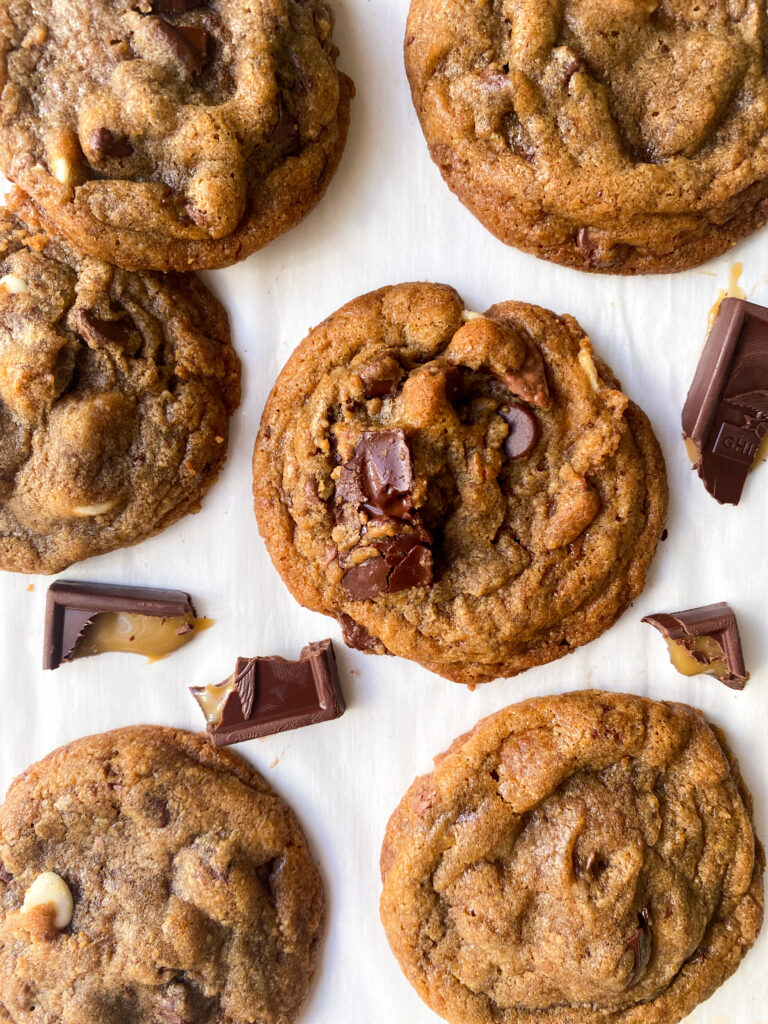 Print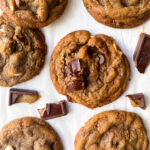 The Ultimate Triple Chocolate Chip Cookies
---
Author:
Total Time: 25-27 minutes
Yield: 16 1x
Description
This is the best chocolate chip cookie recipe! Brown butter and three types of chocolate make this soft and chewy cookie recipe divine!
---
3/4 cup unsalted butter, browned
3/4 cup brown sugar, packed
1/4 cup granulated sugar
1 egg + 1 egg yolk, room temperature
1 tablespoon vanilla extract
1 1/2 cup all-purpose flour
1/8 teaspoon nutmeg
3/4 teaspoon baking soda
1 teaspoon kosher salt
1 cup dark chocolate, chopped (or you can use dark chocolate chips)
1/3 cup semi-sweet chocolate, chopped (or you can use semi-sweet chocolate chips)
1/3 cup white chocolate, chopped (or you can use white chocolate chips)
---
Instructions
Brown the butter over medium heat in a sauce pan. Remove the butter from the heat as soon as it starts to turn brown and has a nutty and caramel smell. Set the butter aside and allow it to cool in the pan or in a heatproof bowl.
In a large bowl combine the cooled brown butter, brown sugar, and white sugar. Whisk together. Add in the egg, egg yolk, and vanilla extract. Mix until well combined.
In another bowl whisk together the flour, salt, and baking soda. Add in half of the dry ingredients into the wet ingredients, then mix together. Add in the remaining flour a little bit at a time. Fold in the chocolate and be sure that you do not over mix the dough.
This recipe does not need to be refrigerated, but you are welcome to refrigerate the cookie dough for at least a half hour, or overnight. You can also store this cookie dough in the freezer for up to one month until you are ready to bake the cookies. If freezing the dough, allow the dough to thaw for 30 minutes before baking.
Once you are ready to bake the cookies, preheat the oven to 350°F and line a baking sheet with parchment paper. Use a 1 ounce ice cream scoop to scoop the cookie dough out into balls. Place the cookies at least 2 inches apart on the baking sheet.
Bake for 10 – 12 minutes until the edges are golden brown and the centers have risen. The centers of the cookies should be gooey.
Allow to cool, then enjoy!
Prep Time: 15 minutes
Cook Time: 10-12 minutes
Category: cookies
Keywords: chocolate chip cookies, perfect chocolate chip cookies, cookies