Dutch baby pancakes are a fun breakfast or brunch food to share with friends and family. The addition of the caramel apples adds most of the sweetness to this morning treat. Dutch babies are in the same family as popovers and Yorkshire pudding. Along with the caramel apples, you can also top the dutch baby with some powdered sugar or cinnamon sugar for some extra flare. Try this out for your next Sunday brunch!
If you would like to add to your breakfast or brunch meal, then you'll love this cinnamon roll recipe!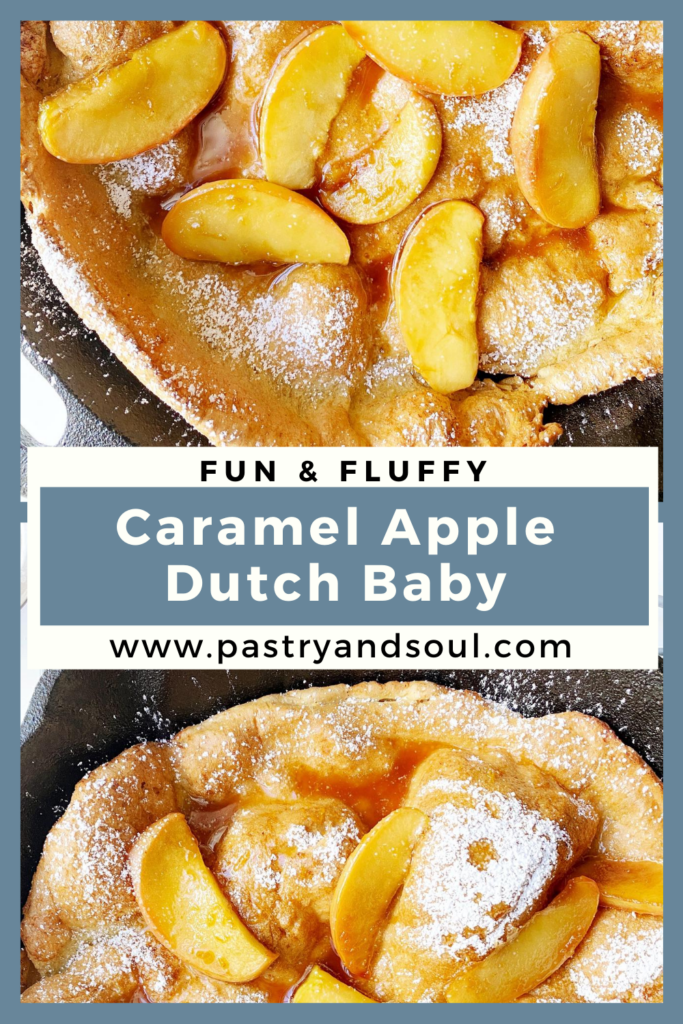 What you'll need for this dutch baby with caramel apples!
Flour: All purpose flour was used for this recipe. Always spoon your flour into a measuring cup rather than packing the flour like you may usually do with brown sugar.
Nutmeg: The addition of nutmeg gives this dutch baby warm flavor note. Spices like nutmeg and cinnamon make me feel cozy and remind me of fall. Freshly grated nutmeg is always a beautiful addition to baked goods, however you can certainly use ground nutmeg in this recipe.
Eggs: It's best to use room temperature eggs.
Milk: It's best to make sure that your milk is also room temperature. Almond milk was used for this recipe.
Granulated Sugar: A tad bit of sugar adds just enough sweetness to the dutch baby. You may omit the sugar since the caramel apples will also add some sweetness in this recipe.
Brown Sugar: You may use dark or light brown sugar.
Apples: Gala apples were used to this recipes, but you are welcome to use granny smith, honey crisp, or whatever your favorite apple is.
Butter
Heavy Cream
Vanilla Extract: Vanilla adds some additional flavor to this recipe that's not just sweetness.
Salt
Cinnamon: Cinnamon is always delicious with apples!
Additional Toppings: Additional toppings are optional. I used powdered sugar to top my dutch baby. I love how it looks with the final result. Cinnamon sugar or syrup also work well with the caramel apple dutch baby.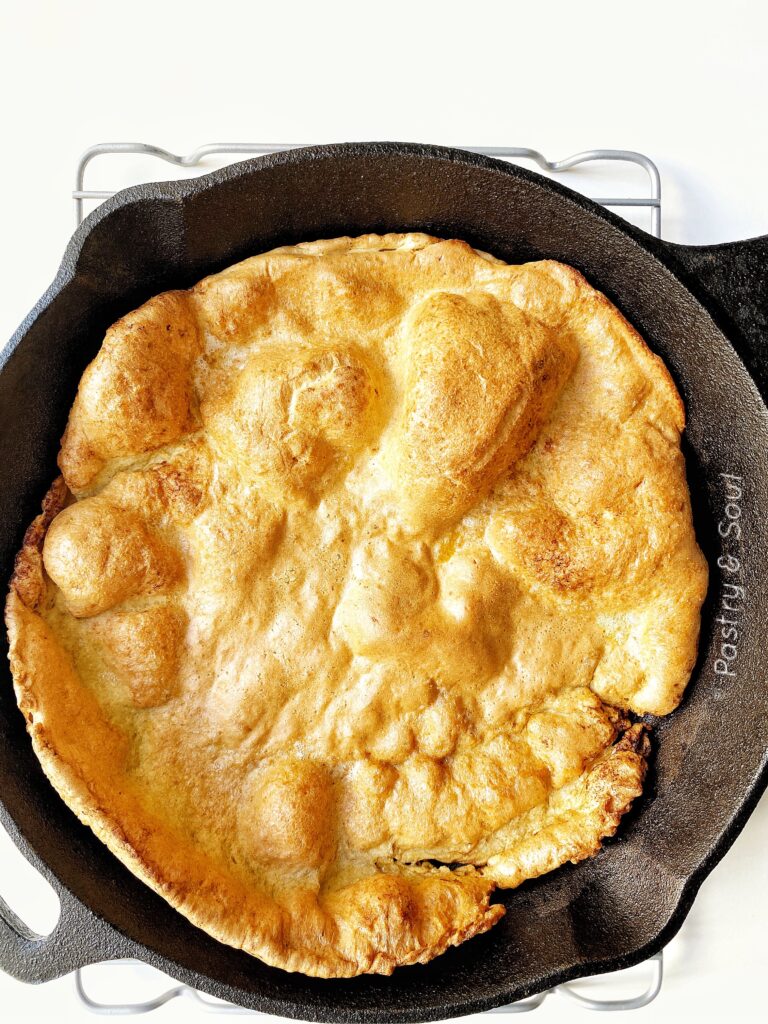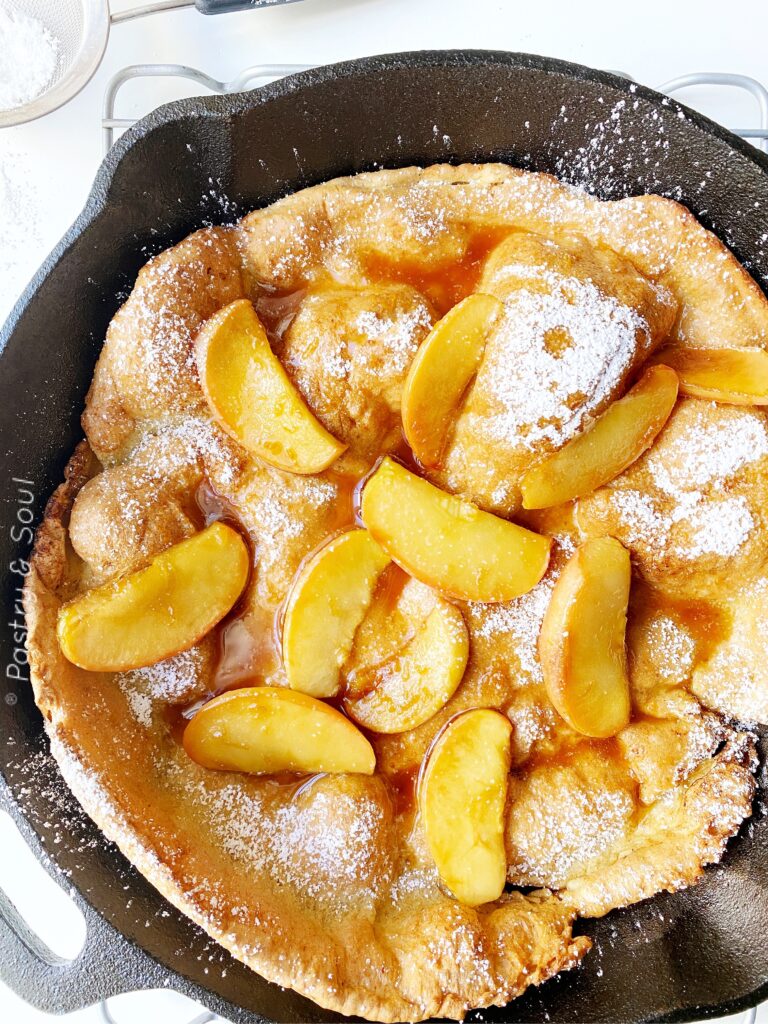 Print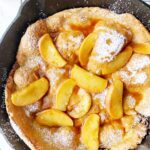 Caramel Apple Dutch Baby
---
Author:
Total Time: 35 minutes
Yield: 3–4 servings 1x
Description
A fun and fluffy treat for breakfast or brunch!
---
Dutch Baby
3 eggs, room temperature
1/2 cup flour
1/2 cup milk, room temperature
1 teaspoon sugar (optional)
1/8 teaspoon of nutmeg
pinch of salt
2 tablespoons unsalted butter
Caramel Apples
2 tablespoons unsalted butter
1/4 cup heavy cream
1/4  cup dark brown sugar
2 – 3 apples (about 1 pound), peeled, cored, and cut into 1 inch slices (Gala apples were used for this recipe
1/2 teaspoon vanilla extract
 1/4 teaspoon ground cinnamon
 Pinch of salt
Optional Toppings
powdered (confectioners) sugar, cinnamon sugar, whipped cream or syrup 
---
Instructions
Dutch Baby
Preheat oven to 425 degrees.
Heat a heavy 10-in skillet in the oven.
In a large bowl, whisk eggs, milk and sugar.
Add in the flour, salt, and nutmeg, then whisk to combine.
Place butter in the 10-inch skillet in the oven (be careful, the pan is hot). Melt the butter in the pan and watch as the butter melts so that it doesn't burn.
As soon as the butter melts, add the batter to the pan. The batter should sizzle when it hits the hot pan.
Return the skillet to the oven and bake for 15 minutes or until the pancake is puffed and golden.
Lower oven temperature to 300 degrees and bake five minutes longer.
Remove pancake from oven.
Allow the pancake to rest for about 5 minutes before serving.
Caramel Apples
Melt the 2 tablespoons butter in a pan over medium heat.
Stir in the cream and brown sugar.
Add the apples and stir frequently until the apples are tender and the caramel thickens, about 10 minutes.
Add in the vanilla, cinnamon and salt. Stir until combined.
Finishing touches
Spoon the caramel apples over the top of the dutch baby and cut into wedges. Or you can cut into wedges and each person can serve themselves with the caramel apples. Feel free to also top the dutch baby with syrup, powdered (confectioners) sugar, whipped cream or cinnamon sugar.
ENJOY!
Prep Time: 15 minutes
Cook Time: 20 minutes
Category: breakfast, brunch
Keywords: breakfast, brunch, pancake